Heineken's New Ad Gets Political... And The Internet Loves It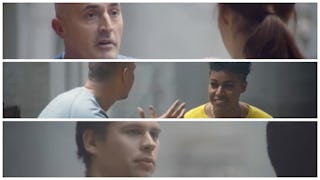 Image via Heineken/YouTube
New Heineken ad attempts to prove we may actually like each other
People are getting a lesson in humanity from the unlikeliest of sources — a beer company. Heineken just dropped an ad and its message is one we could all do to absorb. Their #OpenYourWorld campaign is not what we've come expect from beer ads because, well, they are beer ads. But Heineken went another direction to show the power in simply sitting down face to face with someone you disagree with and actually talking to them over a beer.
The ad features people who come from different backgrounds and with vastly different opinions on issues like feminism, climate change, and transgender rights. At first, the pairs don't know why they are there or that they have opposing views. They are asked to build, in stages, what will become a bar, and are then shown a brief video of the other person talking about a social issue.
"That's not right," one man says in his pre-recorded video, talking about his anti-transgender opinion. "You're a man, be a man; or you're a female, be a female." The woman he was paired with? A transgender woman who looks on in quiet disbelief at the man she'd been getting along with just minutes before.
All of the participants are given a choice after watching the videos – they can choose to leave or sit down over a beer and talk about their differences. They all decided to stay.
Listen, change is hard. Hearing, really hearing, other people's perspectives is not easy, especially when the subject matter is one in which you feel passionately. People are complex and there is always more to their story than you know. The commercial isn't saying one beer is going to change another person's opinion, but sitting down with someone face to face can have an impact.
There are studies that a show brief, in-person conversation with a person with a conflicting viewpoint is one of the quickest and easiest ways to change someone's mind. "Face to face conversation is the most human and humanizing thing that we do; it's where we learn to put ourselves in the place of the other," explains Sherry Turkle, author of Reclaiming Conversation. Going back and forth online or in the comments section of articles with which you agree or disagree gets us nowhere (and causes much unneeded anxiety and swearing). The only productive interactions I've personally had in the last year have been sitting down, actually over a beer (or three), and talking to that person about why they feel the way they do. Then actually listening to their answer.
Perhaps if we all spent more time connecting in person and understanding where the other comes from we will have more in common than we think.
This article was originally published on