10 Helicopter Coloring Pages That'll Really Lift Your Spirits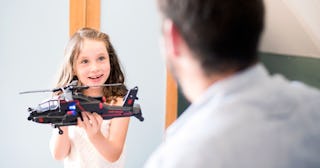 HRAUN/Getty Images
Helicopters might not be as easy to spot in person as we thought they'd be when we were kids, but that only adds to their interesting nature. They're incredibly useful methods of transportation. Aside from boasting the ability to fly in the air in all sorts of directions, helicopters have been vital to medical transport and fighting fires. If it weren't for helicopters, there'd be fewer "aerial views" of scenes on the news. Never had the chance to travel via this super-cool aircraft? You can at least channel those desires with helicopter coloring pages.
Sure, they may not be as fun as the real deal. But at least helicopter coloring pages won't give you motion sickness. If your kiddos breeze through these pages and want to tackle more modes of transportation, try our train pages, car pages, fire truck pages, and airplane pages.
Free Helicopter Coloring Pages
1. Helicopter No. 1
This helicopter has a friendly look about it, as though it'd be a drawing you'd find in your favorite children's book. The small details add a lot to the image, proving it'll be a blast to color in. Maybe a red or a yellow hue will brighten up this drawing. Did you know the helicopter is the only aircraft that can move forward, backward, side-to-side, and hover?
2. Helicopter No. 2
This one has less area to color but may look dazzling if you have a set of coloring pens. Even a silver pen will add a ton of shine and depth to this drawing. You could also ask your kiddo to create a beautiful backdrop for this helicopter. Is it flying through a nice morning or a foggy night sky?
3. Helicopter No. 3
With its bold lines, this helicopter is perfect for anyone looking to practice coloring in the lines. The windows look especially fun to color in, along with the thin propeller blades. Doesn't this look like another drawing that could be in a children's book or cartoon series? If your little one is a budding history buff, you could show them pictures of real-life military transport helicopters and ask them to point out the similarities. And here's an even deeper history fact: Did you know the design for helicopters came from China? They began examining the idea of vertical flight back in 400 BC through bamboo flying toys, which are also known as Chinese tops.
4. Helicopter No. 4
The blank space on this coloring page may inspire you to get a little creative. Does the helicopter have a logo on it? What state is it from? You can let your imagination soar just like the helicopter in question. Helicopters also have a bunch of nicknames like chopper, copter, whirlybird, windmill, and hook.
5. Helicopter No. 5
The curviness of the blades on the main rotor makes this a cool helicopter to color. This image also leaves a ton of room for interpretation. Try sketching and coloring in the background. Where is this 'copter going? What sort of travel plans could it be following? Fun fact: J.W. Coburn and H. Ross Perot, Jr. circled the entire globe in a helicopter. The journey took 29 days, three hours, eight minutes, and 13 seconds.
6. Helicopter No. 6
If you're one of those people (and we happen to fit in this category) who can only find a few colors of colored pencil in the art bin that their toddler destroyed, then do we have the drawing for you! Simple in nature, this helicopter doesn't need too much variety to shine. Even shading it in with a standard No. 2 pencil will be a soothing activity if you so do choose. Plus, sleek gray shades hint at a helicopter's speed. The fastest ever recorded clocked in at an impressive 248 miles per hour.
7. Cartoon Helicopter
If Dr. Seuss drew a helicopter right now, it'd likely look like this one. Bubbly and whimsical, there are plenty of ways to make this drawing even wackier. How about coloring the rotor blades in a bright hue, like pink or yellow? What about giving the helicopter door a makeover by coloring it light blue or bright red? While you're at it, go ahead and break out the Dr. Seuss books to read to your kids while they color.
8. Helicopter Ambulance
Perfect for a toddler or young child to color, this helicopter ambulance shouldn't be too much of a challenge. With the cross on the side, it's apparent this helicopter is off to help save someone's life. In 1944, a helicopter rescued a person at sea for the first time. Since then, it's estimated more than 3 million lives have been saved with the assistance of this type of aircraft.
9. Vertolet Helicopter
A helicopter enthusiast will undoubtedly get a kick out of coloring this page. Plus, if you're looking for a good shading project, you found it. While your favorite artist brings the vertolet to life, break down the word helicopter. Need help? Well, "helico" means spiral, and "pter" means made with wings.
10. Passenger Helicopter
What's the fun of riding a helicopter if there's nobody by your side to enjoy the view? Feel free to draw your own passengers in this model, and be adventurous with it. Are they learning to fly, or are they professionals? Let's just hope they don't come across any Australian wedge-tailed eagles — these birds hate helicopters. In fact, they often try to attack them. (What a bully!)
Click here to print all of the helicopter coloring pages at once!
This article was originally published on