10 Things You Need If You're Tired AF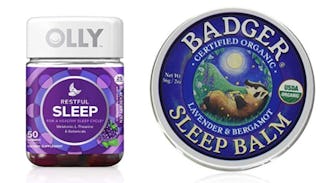 Image via Amazon
If you're struggling with sleep, check out these game changers
If you're a parent, you're almost definitely not getting enough sleep. That's why it's super important to stock up on items that will help you get the snoozing you desperately need — and maybe even have a little fun in the process.
This adorable sleep mask boasts natural mulberry silk on both sides (ooo la la) and includes a bonus set of earplugs. Because if it's not the daylight creeping through your curtains disrupting your slumber, it's your screaming baby. Bless.
Speaking of curtains, if a sleep mask just isn't enough, maybe something a bit more extreme is your jam. These insulated blackout curtains come in more than a dozen colors and promise to keep all the light out until you're ready to face the day. Or until a child comes barreling into your bedroom before dawn. Ugh.
This yummy-scented lavender sleep balm promises, "A calming, soothing blend of essential oils" that "promotes a sense of well-being so sleep can come naturally." While it's not a drug, the calming scent can help you chill out before bedtime when you rub it on your lips, chest, temples, or hands.
Sometimes it's not a nursing baby, a restless mind, or too much caffeine keeping you up — it's a snoring bedmate. Fear not — this white noise machine with a choice of 20 soothing sounds will help to block it all out. It even features two light-up modes: Soft Night Light and Colorful Ambient Light.
They say dress for the job you want, and if the job you want is Well-Rested Mom, wear the cutest (and most comfy) pajamas you can find. This extremely cute set of owl jammies should do the trick.
There's something to be said for flipping over your pillow to get to the cool side — it's so soothing and comfy. That's why these cooling bamboo pillowcases are… cool. No really, the "irresistibly sleek sateen" promises to turn your bed into a luxurious retreat. Sign us up, please.
Weighted blankets are all the rage these days and that's for a reason — they sound like sleep-inducing, ultra-comforting heaven. This weighted blanket promises to surround your body and form to your shape providing a satisfying pressure to help you feel cozy enough to (hopefully) drift off.
If you want to start a chill bedtime ritual, maybe a sleepy cup of tea is in order. This bedtime brew promises to help reduce stress and anxiety so slumber comes a little bit sooner.
If you're struggling hard to get those Zs because your mind is constantly going a million miles an hour, it might be smart to get the whole party started with your daily multivitamin. Olly Restful Sleep Gummy Supplements offer a dose of L-Theanine and botanicals like chamomile and lemon balm to help encourage sleep naturally.
When all else fails, just fire up the coffee pot and pour a nice steaming mug (or four) into this very accurate coffee mug.
Because we are definitely living this exhausted mom life and need all the help we can get.
We are a participant in the Amazon Services LLC Associates Program. We may earn fees by linking to Amazon.com and affiliated sites.
This article was originally published on