Here's What You Should Know About The Women's Strike Tomorrow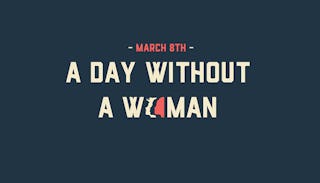 Image via Woman's March
There may be a 'Day Without A Woman' event in your city
Tomorrow is International Women's Day. It's also a day when women across the globe will be engaging in many different forms of social protest. The organizers behind The Women's March on Washington have planned 'A Day Without A Woman' and are calling for any women who can to refrain from paid and unpaid labor. "A Day Without a Woman" is taking place in solidarity with the International Women's Strike, which has partners in more than 50 countries.
If you can't miss work, organizers are calling for a halt on spending unless you are buying from independent, women-owned businesses. You can also wear red in solidarity. The purpose of striking on March 8 is not just to show the public what a world without women looks like: it's to send a message of solidarity to each other.
That was the most amazing part of the Women's March on January 21st — everywhere you looked there were hordes of men, women, and children marching in solidarity. That sends a powerful message, not just to those in power who are attempting to quash our rights, but to each other — that we have each others' backs. There is power in numbers. There is power in millions taking an action — no matter how big or small — to send a message to the world.
Anyone can support tomorrow's efforts by wearing red in solidarity. Businesses can give female employees the day off. Men can "lean into care work and housework."
From the Women's March site: "When millions of us stood together in January, we saw clearly that our army of love greatly outnumbers that of fear, greed and hatred. Let's raise our voices together again, to say that women's rights are human rights, regardless of a woman's race, ethnicity, religion, immigration status, sexual identity, gender expression, economic status, age or disability."
The International Women's Strike site compiled a list of events that are happening on March 8. See if your city is on this list, then circle back to IWS site for details.
Fairbanks, Alaska
Chattanooga Tennessee
Lansing, Michigan
NYC, New York
Philadelphia, Pennsylvania
Pittsburgh, Pennsylvania
Ann Arbor, Michigan
Santa Cruz, California
St. Petersburg, Florida
Raleigh, North Carolina
Washington, D.C.
Berkeley, California
Carbondale, Illinois
Albany, New York
Geneva, New York
San Francisco, California
Lawrence, Kansas
San Jose, California
Portland, Oregon
Ithaca, New York
Richmond, Virginia
Stillwater, Oklahoma
Weston, West Virginia
New Brunswick, New Jersey (Rutgers)
Baltimore, Maryland
Los Angeles, California
Gainesville, Florida
This article was originally published on