Hero Nurse Walks Two Miles Through Blizzard To Get To Her Patients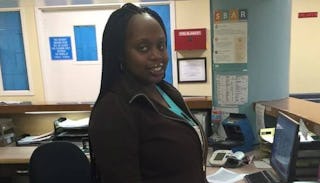 Dedicated nurse Chantelle Diabate walked two miles through a blizzard to get to the nursing home where she works because she knew her patients needed her.
In the midst of the blizzards that covered many parts of the U.S., most people just hunkered down with some blankets and enjoyed the snow day, but one dedicated nurse in New York actually braved the storm on foot to take care of her patients.
According to ABC News, Chantelle Diabate works at the Hebrew Home nursing home in the Bronx. During Saturday's blizzard, the driving snow kept most people indoors and made it impossible for most people to get to work that day. It would have made sense for Diabate to stay home. Nobody could have expected her to struggle two miles through the snowstorm on foot in that weather. But Diabate thought that if she was snowed in, then probably a lot of her coworkers were snowed in as well. If none of them could get to the nursing home, who would take care of the patients?
So Diabate started walking.
"At the time I just felt that I knew that nobody was really going to come in so I tried to do my best to get there," Diabate said. "At some point you're going to have to depend on somebody. We all need each other. I treat my patients well because I treat them like family."
Diabate was right about being needed, too. She was the only nurse who made it to work on Saturday, and she wound up staying and working a double shift along with the handful of other staff members who managed to get to the nursing home that day. If she'd stayed home, there'd have been no nurses at the home at all.
Diabate's trek is an impressive and admirable display of dedication and selflessness. How many of us would have taken the free day off if we could get it and forgotten to think about the ramifications that could have on everyone else? But Diabate's job is essential, and she knew she was needed. She also had a keen sense of perspective from having worked at the nursing home. She knows that the people who need her care now were once young and strong, and they built the world we live in today. Any of us could wind up in their position, and we'd have to depend on nurses and caretakers. If we're lucky, we will be around great people like Diabate, who was willing to trudge two miles through a blizzard just because she knew there were people who needed her.
"My job is really humbling because you realize you could be a patient…at some point you're going to have to depend on somebody," she said.
Diabate said that she knew she had to go in because she knew her daughter would be safe at home with a babybsitter, and her "second family" was counting on her. Her patients are lucky to have her, and her daughter is lucky to have such a great role model.
This article was originally published on