Hero Proposes To Her Man With A Bouquet Of Doritos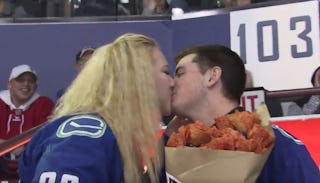 Via Vancouver Canucks / Twitter
This woman nailed proposing to her boyfriend — with a little help from some snacks
Planning a proposal can be a lot of work. Planning a proposal that goes viral on the internet can be even trickier. That's why it probably helps to have a big corporate sponsor for your question poppin' moment. Enter Amanda Mussio, who planned an elaborate, hockey-themed proposal to her boyfriend, brought to you by Doritos.
The sweet moment went down at a Vancouver Canucks game, and the team captured it all on video for their Twitter feed.
In the video, Mussio explains how she and her boyfriend, Brandon Haubrich, met and fell in love, and how she planned to buck gender norms and pop the big question herself instead of waiting for a ring.
"A woman proposing to a man — you never know what to do, right?" she said. "You can't get them a big, blingy ring, and you want it to be a little bit different anyways, since you're not following the traditional method of proposal."
Mussio's big idea involved having Haubrich "randomly" (read: not-so-randomly) chosen to compete in the Canucks' "Puck Shuffle" game. All he had to do was pick the right puck and he would win the "mystery prize" underneath it — in this case, a brand new fiancée. When he chose his puck and the message underneath read, "Will you marry me," he looked so confused — until he turned around to see Mussio on one knee with a bouquet of Doritos roses in her arms. Of course he said yes, because who wouldn't want to lock down a woman who proposed with Doritos roses, which are, gloriously, a real thing in Canada. There's even a DIY video on how to make them.
Now, Mussio and Haubrich are happily engaged, and Mussio nailed it, because her man had no idea it was coming.
"I was very shocked and surprised," he told NHL.com. "I'm still taking some time to catch my breath. I knew we were coming to the game, but I had no idea anything like this was going to happen."
Long live love!