This High-Rise Infinity Pool Gets A Resounding 'No Thanks' From The Internet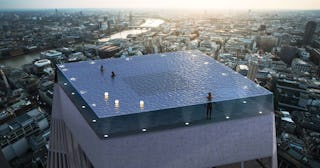 Compas Pools
There's a high-rise infinity pool being built in London that literally makes zero sense
Fancy a little feeling of danger with your next swim? There's a high-rise infinity pool that's been unveiled called Infinity London which, according to the designers, is "the only building in the world to incorporate a 360-degree infinity pool." Another important note? You won't find any stairs surrounding the entire pool so you should probably start working on those doggie paddle skills, STAT.
Okay, so what exactly is the deal with this mysterious, totally bonkers situation? It's a 600,000 liter pool, situated on top of a 55-story building, with 360-degree views of surrounding London. The kicker: in order to get in and out of the pool, you need to go through stairs that are located inside the pool. Excuse me while I breath into a paper bag from the anxiety of it all.
"We faced some quite major technical challenges to this building, the biggest one being how to actually get into the pool," Alex Kemsley, the swimming pool designer and technical director, explained in an interview. "The solution is based on the door of a submarine, coupled with a rotating spiral staircase which rises from the pool floor when someone wants to get in or out — the absolute cutting edge of swimming pool and building design and a little bit James Bond to boot!"
Currently wondering how all this massive, all-encompassing rooftop pool water won't spill off the side and directly onto unsuspecting pedestrians below? Well, according to the designers, they've got a building management system that makes sure that won't happen. There's also a transparent bottom, so visitors to the building can see the swimmers and the sky.
"Architects often come to us to design roof top infinity pools, but rarely do we get a say in the building design because the pool is usually an afterthought," Kemsley added. "But on this project, we actually started with the pool design and essentially said, 'how do we put a building underneath this?' When we designed the pool, we wanted an uninterrupted view, both above and below the water."
People still had questions. Like, a lot, a lot of questions. Mostly everyone on Twitter was worried that this pool was a complete death trap and have zero intentions of ever entering it.
Also, Twitter user @mmmegan made the valuable point that there will be a whole lot of people in the building looking directly up at your butt while you swim: "Oh and to top it all off, people INSIDE the building have to LOOK UP at my undercarriage while i'm silently boiling to death in this inescapable hellpot??? my waxer is NOT that good folks, i'll PASS."
So, yeah, the moral of this story is that maybe we should all stick to the community pool where the best thing that could happen is that we stay alive and the worst thing that could happen is we swim through someone else's urine. Bless.
This article was originally published on