Women In High-Risk Pregnancies Need Emotional Support — Here's How To Help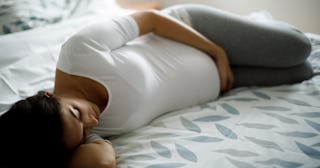 damircudic/Getty
Content warning: This article discusses high-risk pregnancies, miscarriages, and mental health issues. Some readers may find this topic disturbing.
After two miscarriages, Megan* was surprised to find out that she was pregnant again. In addition to the miscarriages, she also had chronic hypertension and was considered to be overweight, so Megan was informed that her pregnancy was high-risk. She was shuffled between several OB-GYNs, with each pressuring her to lose weight while she was pregnant.
"They would treat me like I was a fat 'number' rather than a patient," Megan tells Scary Mommy. "I understand being thorough, but they definitely treated me like shit and made me feel more depressed and in constant fear than anything — despite every effort I made to keep my pregnancy as healthy as possible."
Though her doctors did bring up her mental health in their appointments, Megan says it felt as though they were reading from a script and rushing, rather than listening to her concerns. "I was so scared of everything," she says. "If I had a slight twinge, I felt I was about to go through another miscarriage or preterm [birth]. I would freak out if my blood pressure was even slightly raised, and the word SIDS kept pounding in my head. I'm 2.5 years postpartum now, and I'm still scared of SIDS."
Melanie Oates had a similar experience when she found out she was pregnant with twins — including one classified as having Intrauterine Growth Restriction — and was deemed a high-risk pregnancy. "As a newbie to pregnancy, I was not given any information or guidance on what resources and support were available to me," she tells Scary Mommy. "My doctors knew I suffered from depression, but that didn't mean anything to them. They only had it documented on my chart. I felt alone and not important because I was left to figure things out on my own, but I couldn't stress too much because I was already high-risk."
Welcome to the high-risk pregnancy paradox: when women are told their pregnancy is under threat — something that can cause severe anxiety and emotional distress — but are frequently not provided with the mental health resources and support they need to get through it. Scary Mommy spoke with doctors, mental health professionals, and women who have been through high-risk pregnancies to find out what kind of emotional support is available, and how friends, family members, and spouses can help.
What is a high-risk pregnancy?
There are a variety of factors that could lead to being told your pregnancy is considered high-risk. According to the Mayo Clinic, these include "advanced maternal age" (meaning mothers who are older than 35…we know — we're just the messenger), substance use (smoking, drugs, or drinking alcohol during pregnancy), being pregnant with multiples (twins, triplets, etc), maternal health problems (high blood pressure, diabetes, epilepsy, etc), a history of complications in previous pregnancies, and having complications with your current pregnancy (fetal growth restriction, abnormal placenta position, rhesus (Rh) sensitization). With pregnancy rates for women aged 35 and older constantly increasing in the United States, high-risk pregnancies are now fairly common, and at this point, shouldn't be treated as some sort of rare exception.
Types of High-Risk Pregnancies
A few examples of high-risk pregnancies include:
Premature labor. This is when you feel contractions before the 37th week of your pregnancy. If you give birth around this time, the child is deemed premature.
Placenta previa: This condition can cause heavy bleeding and is when the placenta covers the cervix. Women who have carried multiple fetuses or have had c sections in the past are more prone to this.
Preeclampsia: This is when the mother has protein build-up in her urine and high blood pressure. This could cause weakened liver and kidney functions.
Don't Rely on Your OB-GYN for Mental Health Support
As great as it would be for all general practitioners and OB-GYNs to keep an eye out on their patient's mental health, that's not always the case. "Currently, OB-GYNs do not make a practice of inquiring about the mental status of their patients, even though the literature cites the extensive amount of anxiety and stress that a high-risk pregnancy places on the pregnant mother," Stephanie Wijkstrom, a psychotherapist based in Pittsburgh tells Scary Mommy. "There exists an ever-growing disconnect in the medical community between mind and body, most often those who treat the body do not attempt to connect with the thoughts and feelings associated with what may be happening in the body."
Of course, this isn't the case across the board. Heidi McBain, a licensed marriage and family therapist specializing in treating mothers and moms-to-be, tells Scary Mommy that she's worked with clients who have said that they've received excellent mental health support from their OB-GYNs. The problem comes down to the doctors being crunched for time. "The one thing I hear over and over again is that if they aren't rushed through these appointments, they typically leave feeling seen, heard, and understood," she says.
How to Get Emotional Support if You're Experiencing a High-Risk Pregnancy
Experiencing a high-risk pregnancy increases a person's risk for anxiety and depression during pregnancy and following childbirth, Emily Guarnotta, a clinical psychologist in New York specializing in working with perinatal mood and anxiety disorders tells Scary Mommy. "Anxiety is an emotional response to a perceived threat," she explains. "In the case of high-risk pregnancy, this threat is to the health and well-being of a woman and/or her baby. Therefore, it makes sense that women that fall within this category would experience higher rates of anxiety."
If you are experiencing a high-risk pregnancy, the first thing to do is to create a support system — don't be afraid to ask for help if you need it. "Start attending therapy to process the emotions and feelings that may be associated with having a high-risk pregnancy," Kristy Christopher-Holloway, an assistant professor and mental health clinician who works with women experiencing infertility, birth trauma, reproductive loss, and postpartum mood and anxiety disorders tells Scary Mommy. "Attend a support group — online if mobility is not an option/reduced."
In fact, Karin Mahoney, the director of communications for Postpartum Support Virginia (PSVa) says that many people find virtual support very helpful, including "connecting with Facebook groups that have a mix of women going through this and also who have been through it." She also suggests online support groups or attending counseling through virtual means.
It's important to note that it's not only first-time moms who need support during high-risk pregnancies. This was the case for Dr. LaTasha Perkins, MD, a family physician based in Washington, DC. "I, myself, am a family physician, but as a black woman, I still had a complicated, high-risk pregnancy that included bed rest and gestational diabetes," she tells Scary Mommy. "I have the access. I have the education. But statistically, I knew I may not get to be a new mother."
Now, Perkins urges other people experiencing high-risk pregnancies to actively seek out the support they need. "Women in high-risk pregnancies shouldn't take on anything on their own, so they need to ask for help and express when they aren't feeling like themselves," she explains. "We sometimes forget to take care of our mental health, but mental health is equally as important as physical health — and mental stress can cause a high-risk pregnancy to be even more high-risk."
And remember that you don't need to go through a high-risk pregnancy alone. Talk to your doctor, partner, and friends about it, if you feel comfortable doing so. They may also have suggestions for other resources that may be helpful. Or, if nothing else, they'll be aware of what you're experiencing and know to check in on you. Perkins suggests developing a "Mom Tribe" — "a sisterhood of moms, other pregnant women or recently pregnant women that can help educate and support you." This could be your mother or other women in your family (grandmother, aunts, cousins), friends, peers, or online mommy support groups. "Talking to other women who have been through high-risk pregnancies can help answer questions and remind women that they are not the only one going through this," she adds.
How Partners, Family Members, and Friends of People in High-Risk Pregnancies Can Help
If you are close with someone going through a high-risk pregnancy, you may feel helpless and may not be sure what you can do (without overstepping your bounds or getting annoying). "It takes a village — partners and other caring persons in the mother's life should check in often, simply by asking 'how do you feel', or 'is there anything I can do to help?'" Wijkstrom says. "Simple questions like this provide the opportunity for the woman to discuss her daily experience and feel understood and connected to her community of caring persons. Ultimately, the outcome of high-risk pregnancy is unknown which is the fear that is trembling under the term high risk, and the best we can do is offer care and presence to those in need."
And once you ask questions, don't underestimate the power of listening non-judgmentally, Emily Souder, a licensed therapist specializing in perinatal mental health tells Scary Mommy. Along the same lines, try not to offer advice (and especially criticism) unless the pregnant person explicitly asks for it. If you're someone who loves helping people, it might be difficult to simply listen to their concerns and not offer solutions, but understand that people don't always want you to rattle off a list of things for them to do that they've probably already tried.
Instead of unsolicited advice, offer to help the person in other ways. For example, Mahoney suggests asking if they'd like you to bring over dinner, go grocery shopping for them, or help out with their older kids. You can also offer to drive them to doctor's appointments or even go with them if that's something they may find helpful.
But when in doubt, let the person experiencing the high-risk pregnancy know that you're there for them. Mahoney recommends "acknowledging that you don't know what to say, but that you know this must be so difficult" and "not trying to fix it — just sitting with them 'in the suck.'"
*Some names have been changed.
This article was originally published on