8 Things I Learned On Bedrest With A High-Risk Pregnancy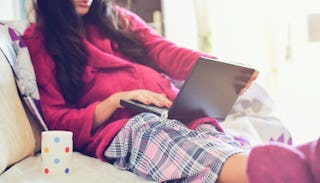 Filipovic018 / iStock
My first 18 weeks of pregnancy were glorious. Sure, I vomited on the daily and couldn't look at a green vegetable, but I didn't care. We renovated the baby's room, picked out a name, and I even compiled the definitive list of safety features for every stroller on the market. And then, it all came to a screeching halt.
I woke with sharp pains in my lower belly. Multiple tests later, I was diagnosed with three bulbous fibroids. One of these suckers was football-sized and bearing down on my cervix. All sorts of medical jargon were tossed around, but it basically meant my baby could fall out at any moment. The doctor said I'd be lucky to hit 24 weeks. I was sent to bed for the remainder of my pregnancy and told to lie there with my hips above my belly. So now, not only was I trying to grow an actual human, apparently I needed a crash course in contortionism. I stayed in that bed for five months. Here's what I learned on bed rest during my high-risk pregnancy:
1. My instincts were right.
When I first called my doctor about the pain, she told me it was likely normal pressure, so I waited until the evening of the next day for my regular appointment. I was trying not to be that crazy pregnant lady. But then I had to wait another full day to see a specialist. Pushing to be seen earlier wouldn't have changed the diagnosis, but it would've given me a plan of action sooner. Bottom line: I knew something was wrong and I shouldn't have taken no for an answer.
2. I needed a doctor I could trust.
Being high-risk gave me VIP status. But the large practice shuffled me around so much, I felt like a cheap escort on speed dial. Not only that, each practitioner gave me conflicting advice. Finally, I insisted on seeing only one doctor. I chose the one with the stellar record for complicated C-sections and an amusing bedside manner. I never regretted my choice.
3. I was not alone.
Being chained to my couch was isolating, but with Google as my only company, I soon found that there were plenty of other women going through the same thing I was. It was just harder to connect because we were confined to our homes. It's not like we were getting together for lattes, but knowing they were out there and were just as scared, lonely, and bored gave me a sense of solidarity. Helpful hint: Never Google symptoms. Just don't go there.
4. A support team is vital.
If there were ever a time to beg off household chores, this was it. But for the longest time, I was afraid to ask for assistance. But as it turns out, people love to help pregnant women! I called my neighbors, my mom, and even the town council to help find community volunteers. Then I pleaded with my best friend to stop by with take-out and binge watch Happy Days reruns. That took some convincing.
5. Setting up my space was crucial.
I went full-throttle commitment. I ordered fancy sheets, tailgated bedside with a cooler packed with goodies, stocked up on trashy magazines, and sprung for the premium Netflix package. Once everything was at my fingertips, I could almost pretend I was holding court. I even donned a rhinestone tiara just for kicks. Of course, most of the time it was just me and the dog, but I'm sure she was thoroughly impressed.
6. I had to rev up the romance.
When your entire job is to keep your legs shut, the last thing on your mind is sexy time. But with all the stress surrounding me and my husband, it was damn hard to stay connected. We had just bought a business, we were renovating the house, I was a bawling mess of despair, and he was drowning in bills and dirty underwear. At one point, holding it together became so unbearable, he began vomiting more than I was. I planned a few low-key nights together, and though he mostly just passed out next to me from exhaustion, at least the sentiment was there.
7. My birth plan was useless.
When you have a high-risk pregnancy, the best birth plan is no birth plan. One minute I was envisioning a serene water birth, the next minute I was racing to schedule a C-section, and then just when I thought we were all set, plans changed again. I had no idea what to expect when I was expecting, so I had to be prepared for everything. The single best decision I made was to hire a doula to help me navigate whatever came my way. She was an amazing advocate and she even caught my husband when he passed out.
8. I had to forgive myself.
I thought it was my fault, and all these complications made me question my ability to be a mother. How could I care for a newborn baby if I couldn't even protect him while he was inside my body? This type of thinking took me to a dark place, and it was hard to climb out of that hole. I had to tell myself over and over that I was enough, my decisions and actions were enough, and I'd make a damn good mother.
Five months after those first ominous pains, my baby boy was born healthy and on his due date. It wasn't an easy ride, but we had made the journey together and we were stronger for it.
And as a bonus, it turns out that learning to hold my legs up in the air for hours revved up the romance all on its own.
This article was originally published on