Principal Surprises Students By Joining Step Team Performance And Their Reaction Is Pure Joy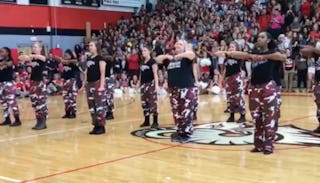 Image via Facebook/Becky Godwin
This principal can seriously move
Sometimes kids need reminders that teachers and principals are people too — and as such, they can do a lot more than assign homework and give detention. That's what one school principal showed her students when she outright nailed a performance with the school's step team.
Seriously. She killed it.
Doctor Donna "Mickey" Reynolds is principal at Lake Mary High School in Lake Mary, Florida. Actually, she's the new principal, and while the students haven't had much of a chance to get to know her yet, they know her now — along with hundreds of thousands of people on the internet who got to see her break it down at a recent pep rally for the school.
Reynolds, a former dance team member herself, joined in with the school's step team during the last scheduled pep rally of the football season for a performance the students won't soon forget. And neither will anyone else. She didn't miss a beat, and the students were clearly feeling it, cheering wildly from the moment she joined the team until the end. It's racking up shares and views because it's so much fun to watch, but there's more to this video than meets the eye.
Reynolds tells TODAY that as the new principal, she had a hard time adjusting at first. "I didn't know how the students would react," she says. "My expectation was that they would be dying laughing, that they would think it was hysterical. But I have never heard such cheering. I was so blown away by how much they were cheering."
She expected laughter because the initial reception from students at the beginning of the school year wasn't the most welcoming. At the first pep rally of the year, the football coach warned Reynolds that she might hear some booing from students. "I'm not used to being booed," she says. "But we kind of accept that as principals; there is going to be a transition period. You know that it's going to take a while for people to accept you, because they are irritated that the other principal is gone."
Reynolds says she understood the kids being apprehensive of new leadership. "The students were worried that I was going to take away all their privileges and fun. And I understand, and I knew I just needed to do what I do, and they would change their opinion eventually," she explains.
And that changed opinion came about when she decided to surprise them all at the pep rally. But first, she had some work to do.
When it came to learning the routine she would soon absolutely slay, all 21 members of the step team gave input on her moves. She worked one on one with some members to get it down perfectly and even taped practices so she could continue drilling on her own at home. "But I thought it was a great lesson from the coach to show the kids that they could give corrections to adults. It meant a lot to me," she says of the team's feedback.
As far as how the team felt about her skills? "We were so happy when we heard she wanted to step with us,"coach Kelly Lupis says. "Just really flattered. The school is known for the outstanding dance and cheer teams — and she used to be on the dance team, so that would have been an obvious choice — but she chose us. That meant a lot to us. And she killed it."
Though dancing with the team was obviously a ton of fun for this cool principal, she knew there was a chance that in putting herself out there, she might also win the students over. "Sometimes adults — even the best intending adults — have a hard time dropping their guard down and letting themselves be vulnerable in front of their kids. You might be surprised at how much you can learn and take away from it by trying."
Looks like it definitely worked if the reaction of her students is any indication.