Mom Tells It Like It Is In Hilarious Pregnancy Cartoons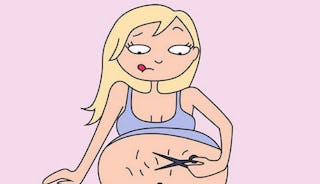 You'd never know it by looking at the glowing women in magazines and on the covers of books, but pregnancy is probably the lumpiest, smelliest, hairiest time in a woman's life. We're not often presented with that reality, and that's why one mom's honest pregnancy cartoons are so hilariously on point.
Line Severinson is an illustrator and mother of two who started drawing comics to show the ugly truth about being pregnant while she was expecting her first child in 2012. Since then, she's used funny drawings to document dozens of experiences from gestation to birth, breastfeeding, and beyond. She posts the illustrations on Instagram, where she's gained thousands of fans thanks to her brutal honesty and unique sense of humor.
Do any of these experiences look familiar to you?
And, my personal favorite:
Severinsen told the Huffington Post she started the cartoons as a way to showcase a little bit of reality and help normalize the discomforts so many pregnant women experience. She said, "I thought to myself that there is no way that no other people felt and looked like I did, so I wanted to create a counterpoint to help people like me to understand that they weren't alone and that it is OK to feel and act less than perfect sometimes."
Pregnancy has changed a lot in the past few decades. Thanks to the media's inexplicable obsession with celebrity "baby bumps" and postpartum bikini shots, we're living in a world where women are expected to look and feel fabulous throughout every stage of becoming a mom. It's just not reality.
My youngest child is over a year old and I've only recently started feeling like a person again. I'm shaving my legs, I've almost worked enough of my pregnancy pouch away to be able to see my own bikini line again, and I even wear pants with buttons, like, 85 percent of the time. It's a miracle, really.
Pregnancy and childbirth are so much more taxing than any of us let on, and the body changes, frustrations, unsolicited advice, and laugh out loud moments certainly don't end there. Having kids is something for which few of us can ever truly prepare, and it's so easy to feel alone when you're going through the hard parts. That's why projects like these illustrations are so important.
Severinsen says she plans to keep drawing realistic depictions of motherhood as her kids grow, and will even turn her artwork into a book someday. If she does, I'll definitely give a copy to every pregnant person I know. Nothing about this mom gig is easy. The best thing we can do is laugh about the hard parts together.
This article was originally published on