Mom's Texts To Daughter Go Viral, Prove The Favorite Child Is Always The Family Pet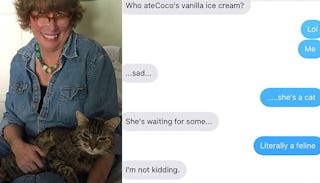 Image via Twitter.
This mom-daughter cat conversation is going viral for all the right reasons
A hilarious mom-daughter cat conversation is further proof that the favorite child of any parent is the beloved family pet. Jenny Katz from Burbank, California, had to find out the hard way when she ate the cat's ice cream.
Yes, you read that right. The family cat, 17-year-old Coco, loves Dreyer's French vanilla ice cream and because she runs the house she gets a little bit before bed every night. Katz told Buzzfeed that Coco is "treated like royalty" so naturally all hell broke loose when she ate the queen's favorite nightcap.
Katz's mom, Debbie, and Coco have a "nightly routine" so when the pair went to fetch the French vanilla treat and discovered it was missing Debbie sent her daughter some frantic texts that are pretty funny. A double ellipsis is never a good sign so when Debbie wrote "…sad…" we knew things we're going to get heated. Katz explained that she had "no idea the ice cream in the freezer was off-limits." Thankfully the family had some extra popsicles for the kitty queen.
Although judging by Coco's face in the follow up pic where she demands to know where the ice cream is we're thinking that backup treat wasn't good enough. Katz tried explaining to her mom that Coco is just a cat, but the family wasn't having it.
Katz and her mom have a joking relationship, but she said the whole conversation was beyond ridiculous that she decided to share it on Twitter. . "If you could hear us speak out those texts, you'd probably laugh even harder," she shared. The ice cream debacle quickly went viral because let's be honest, we all know our family pet is the best. People chimed in naming their parents whose love for their cats outshines all else.
And a few proud cat owners, like the lady above, claimed that honor for themselves. We're not shocked Debbie and Coco have a nightly ritual that's special to just them. Coco does looks like a pretty great cat and she's been alive for almost two decades. She's earned all the ice cream her tiny feline belly can hold. In my house, my mom routinely told us the cat was her favorite kid saying, "She never talks back."
To get back into their good graces, Katz plans on buying her mom and Coco at least a carton of French vanilla ice cream.
Update: Late last night our sources learned that Coco finally received her treat. Watch her devour it in the video below.
This article was originally published on