Hilary Duff Dyes Her Hair Blue 8 Months Into Pregnancy, Immediately Gets Shamed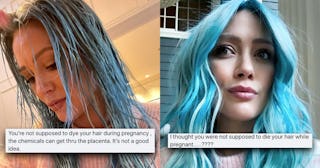 Hilary Duff/Instagram
Hilary Duff has always been playful when it comes to her hair ,and at eight months pregnant, she's showcasing a new 'do in blue. Of course, people had to weigh in and question the mom-to-be about dying her hair while pregnant.
Duff and her husband Matthew Koma announced the pregnancy news in October of last year showing off Duff's growing bump. Duff's son, Luca, and their daughter, Banks, are going to be big siblings soon by the sounds of it. The actress, who recently wrapped filming the last season of Younger in New York City, dyed her hair a cotton candy blue as soon as she returned home to Los Angeles.
"Well . . . you guessed it," she wrote on Instagram. "The minute I got home from New York, I needed a change."
Duff continued, thanking her friends, Nikki Lee and Riawna Capri at Nine Zero One Salon, who gave her the new look, saying they "love me a lot. 1- for saying yes to another crazy change this late in my pregnancy (at least I didn't cut bangs!) and 2- it took all damn day!"
Duff did make sure to let her fans know this change was in no way meant as a gender reveal.
"I swear this doesn't mean I'm having a boy . . . my mom thought I was trying to tell everyone something!" she said.
People chimed in on her look, saying she should not dye her hair while pregnant.
This just simply isn't true. According to American Pregnancy, "Most research indicates the chemicals found in both semi-permanent and permanent dyes are not highly toxic and are safe to use during pregnancy." Also, no one needs your unsolicited opinions of their choices about their own bodies.
But back to Duff's pregnancy.
She shared back in November that she had to be in quarantined after being exposed to someone who tested positive for coronavirus. Duff shared in her IG Stories that she was on "Quarantine day 2, fml," which means she was stuck in her basement while everyone else in her family carried on about their days without her.
Luckily, Duff and the fam are all together now awaiting the arrival of the newest member of the family.
"We still don't know who's occupying my apartment — but it's getting the eviction notice soon-ish," Duff wrote.
In a video shared in the carousel, she said the real reason behind her hair transformation was simple: "I don't know if I'm having a boy or a girl, but, you know, I gotta have fun somehow, so she's blue for a while!"
Duff went blue back in April 2020, but this time around, it sounds like it was a much more detailed job, requiring four different formulas and an entire day.
"Hilary is no stranger to a fun hair color," Lee said on Instagram. "She colored her own hair teal during lockdown. This mix of blues just hits different on her though!" She continued, "She is goals in many ways, but to be pregnant and rock this color with so much confidence is everything!"
Duff looks good in any color.
This article was originally published on