Hilary Duff To Star In 'Lizzie McGuire' Reboot About Being In Your 30s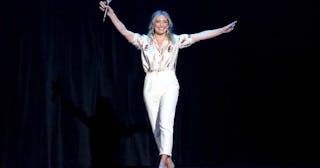 Jesse Grant/Stringer/Getty
The "Lizzie McGuire" reboot will stream exclusively on Disney Plus
On August 23, 2019, Disney Plus went all out and announced their jam-packed lineup for their forthcoming streaming service and one of their new series is a reboot of the beloved Disney Channel sitcom Lizzie McGuire. Millennial women of a certain age (*ahem, speaking*) basically grew up alongside the show's lead actress Hilary Duff and Duff is back to star in the new series which will follow Lizzie as a 30-year-old trying to make it in New York City as a decorator.
The original series debuted on the Disney Channel in 2001 and starred Duff as a 13-year-old navigating middle school life with the help of her animated alter-ego who revealed what she was really thinking.
The show also launched the cultural phenomenom known as ~butterfly clips~.
Duff announced the news at Disney's D23 EXPO on Friday and shared on Instagram Stories that she'd been wanting to revisit the series for years now, but it wasn't until she and the show's creator Terri Minsky landed on the "newly 30″ angle that the idea clicked.
"I think now is a great time for her to come back in her 30s," Duff shared. "She's everybody's best friend and I can't wait to go on this next chapter with her and I hope everyone is as excited as I am!"
Duff is extremely on board with the new project and told People that despite that fact that she and her onscreen persona have gone in different directions over the years ("Our lives are very different — she's not a mother, I am already a mother"), she "can't wait for [Lizzie's] adventures, for her heartbreak, to see her goals, and what she's done."
On the show, Lizzie McGuire was a teenage fashionista and Duff said they originally thought about making adult Lizzie a fashion designer, but settled with having her work as the apprentice to a "fancy New York City decorator."
"We toyed around with her being a fashion designer because that's obviously a big part of the show, but I'm like, 'I think that's too obvious,'" Duff added. "She has a few really cool quirks and her job is really cool but she hasn't totally found her way and I think that's part of her journey."
Speaking on behalf of all Disney-loving millennial women — we are very much here for this.