Hilary Swank Sues Union Health Plan For Refusing To Cover Ovarian Cysts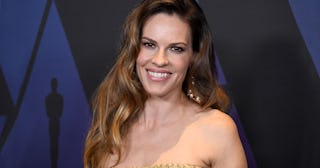 Steve Granitz/WireImage/Getty
Hilary Swank is ripping into her union's health plan for refusing to cover the treatment of ovarian cysts
In full disclosure, what we're about to discuss is going to piss you off — or at least it should. Because it's yet another reminder that the American healthcare system is woefully flawed, and its failings often prove detrimental to women. You see, on Tuesday, Academy Award-winning actress Hilary Swank filed a lawsuit against her union's health plan. The reason? They refuse to cover the treatment of ovarian cysts, a very common health condition in women.
According to the lawsuit filed in California federal court, the Board of Trustees of the SAG-AFTRA Health Plan began refusing to cover the treatment of her ovarian cysts in 2015. It was around that time she opted to undergo procedures that might preserve her ability to conceive children in the future. So, the union tried to use those procedures as a loophole of exclusion in the most infuriating way.
"Seizing upon Swank's choice to keep her options open, the Trustees pointed to an exclusion in the Plan for 'infertility treatment,' relying on the notion that the only purpose of preserving the health of an ovary is to procreate. Despite Swank's, and her board-certified doctors', insistence that she was not seeking coverage for fertility treatment, but only for treatment for her ovarian cysts, the Trustees dug in their heels," Swank's lawsuit reads, per The Hollywood Reporter.
To that end, the Board insisted "there was no medically necessary reason to treat or monitor ovarian cysts other than for 'infertility treatment.'" Kind of makes you wish you could snap your fingers and magically give the Trustees some firsthand experience with ovarian cysts, right?
As Swank points out in the lawsuit, ovarian cysts lead to an array of symptoms ranging from uncomfortable to downright unbearable. Her personal experience includes "extreme degrees of acid reflux, pelvic pain, cramping, and fatigue."
Other symptoms that may present in women with ovarian cysts include pain during sex, difficulty emptying your bowels, a frequent need to urinate, extremely heavy periods, bloating and, yes, even infertility. But, hey, no big deal, right? Who needs to "treat or monitor" such minor inconveniences?
Seriously, there aren't enough eye rolls in the world for SAG-AFTRA's Board of Trustees if this is the way they treat women's health.