Hillary Clinton Reminds Us The Future Is Female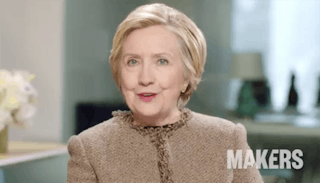 Image via Makers video screengrab
In a video for the Makers Conference, Hillary reminds young women they are the "heroes and history-makers"
The MAKERS conference is under way this week, and Hillary Clinton just released a powerful video to inspire the future leaders in attendance.
The MAKERS conference is a California gathering that focuses on women's leadership. Their theme, #BeBold, was certainly highlighted by Hill's short, but powerful message to the attendees:
"We need strong women to step up and speak out," she says."We need you to dare greatly and lead boldly. So please, set an example for every woman and girl out there who's worried about what the future holds, and wonders whether our rights, opportunities, and values will endure."
God, we needed this pep talk. It's important to remember that no matter how discouraged we feel about certain political turns, we have to stay ever hopeful and vigilant for our children. We're not giving up. We may be disgusted and dejected, but current events have lit a fire under us that hasn't been there for a while. The millions of women who stood strong to say "enough is enough!" and march across the globe proved that. We have to keep using that fire, so that our sons and daughters can see it and we can teach them that no matter what — we endure.
"Remember, you are the heroes and history-makers, the glass-ceiling breakers of the future," Hillary reminds the young women she's addressing. Truth. Hillary's loss of the electoral vote was not an end — it was only a beginning. She was robbed, but in the process we learned there's yet another thing a woman can endure: holding her head high in "defeat." *cough-three million votes – cough*
"As I said before, I'll say again — never doubt that you are powerful and valuable and deserving of every chance and opportunity in the world."
Indeed.
This article was originally published on