Hillary Clinton Wins In Nickelodeon's 'Kids Pick The President' Poll
by Jerriann Sullivan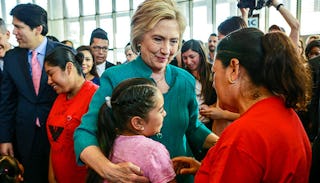 Photo via IRFAN KHAN/AFP/Getty Images.
Hillary Clinton wins kids' vote in various mock elections for children
The results are in and our kids have spoken – Hillary Clinton for president. The Democratic candidate beat out Donald Trump with 53% of support from kids who cast ballots in Nickelodeon's 2016 Kids Pick The President "Kids' Vote." Clearly the kids will be alright. Here's hoping for the rest of us.
Our little geniuses decided Clinton was the best person for arguably the most important job in the country. Trump received 36%, and Libertarian candidate Gary Johnson got 11% of the vote. Between October 28 and November 5, a total of 905,928 kids voted online. The Kids Pick The President mock election exists to "amplify kids' voices and opinions and raise their awareness of the electoral process," according to Nickelodeon.Kids have correctly chosen the next U.S. president for six out of the last seven presidential elections. They only slipped in 2004 when they (like many of us) picked John Kerry over George W. Bush.
While the rest of the country has until Tuesday to make their decision, Clinton's been quietly securing the kids' vote in various mock elections across the country. She won the Scholastic Student Vote with 52 percent of the student votes. You know the Scholastic company. They put on those sweet book fairs that our make reading cool for our kids. Their presidential election is "an educational activity meant to give students an opportunity to express their opinions about the 2016 presidential election."
In the Scholastic election, Clinton did great in almost all of the battleground states including Arizona, Florida, Georgia, Indiana, Michigan, Nevada, New Hampshire, North Carolina, and Ohio, USA Today reported. The future Mrs. President also won Alaska, Idaho, Texas, and Utah among kids, which are traditionally red states. Scholastic has been holding their pseudo-elections since 1940 and noticed a sad trend this year – fewer kids casting their ballots for a president.
In 2012 almost a quarter million kids voted. This year only 153,000 students cast ballots. With so much racism, xenophobia, and references to sexually assaulting women teachers found it hard, if not impossible, to teach their classrooms of kids about this election. "We've had a couple of teachers write us and say they feel so uncomfortable with the tenor of the election that they just don't feel they can cover it," explained Stephanie Smith, editorial director of Scholastic Newsmagazines.
It's understandable. We've all been struggling to talk to our kids about the vulgarity of this election. It's not an easy feat when you teach your kids manners, boundaries, and common decency only to have them see and hear a politician scream hateful comments at disabled reporters, parents who've lost their children, and everyone else Trump's attacked in the last year. Thankfully it will come to an end this Tuesday. Just make sure to vote. And if you worried about juggling it with the kids, YMCA locations will offer free childcare on Election Day.
[free_ebook]