Hindi's Libraries Is Honoring A Beloved Mom And Teacher In An Amazing Way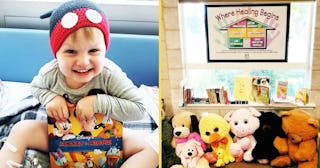 I remember sitting in my kids' preschool and opening a book to read to a group of four-year-olds when a label on the inside cover of the book caught my eye. The book had been donated in memory of a child who had died during her delivery. I only knew the child's name because she was the niece of a friend of mine whose kids had attended the same preschool a few years before mine.
I paused and thought of the hurt of the parents who lost their child the moment they finally found her in their arms. I thought of the baby who wouldn't grow to be a preschooler who would enjoy hearing the book I was holding. But I felt warmth too. Books bring us closer to the ones we are reading with, and to the ones we wish were here to read with.
No one understands that more than the family of Dr. Hindi Krinsky, which is why they started Hindi's Libraries — a literacy program in memory of Krinsky, which has brought folks together with the help of over 35,000 books.
In August of 2018, 32-year-old Dr. Hindi Krinsky, a beloved teacher, died suddenly after a brief illness. She is survived by her husband, five children, and thousands of families and kids who have benefited from the love and joy she created when alive. Dr. Krinsky was an English teacher at Hebrew Academy of the Five Towns and Rockaway (HAFTR) High School who, when she died, ignited a community to keep her memory alive through books. It has been barely over a year since Hindi's Libraries was created, and to date more than 35,000 books have been donated to over 350 organizations in the United States, Puerto Rico, and Israel.
Dr. Kinsky's passion for literacy—specifically child literacy—quickly turned into a passion project and labor of love that is run by Krinsky's husband, Dovid Kanarfogel, and a friend and former colleague, Leslie Gang. After Krinsky's death, Kanarfogel and Gang set out boxes on the HAFTR campus and asked folks to donate gently used or new books that could be donated to a few individuals or organizations. Within days they realized they could donate to over 20 organizations. The books kept coming in and today Hindi's Libraries is able to send boxes of 50-60 books at a time to organizations all over the country.
"The organizations we partner with are either serving children/families in need or those with special needs," Leslie Gang told Scary Mommy. "Some organizations work with children who live in communities where they are unable to afford to properly stock the shelves of their libraries such as homeless shelters, foster care and adoption agencies, low income schools or daycare centers."
Recently Hindi's Libraries was asked to donate books to the NICU at Cohen Children's Medical Center in Long Island. But the books needed to be new to reduce the risk of compromising the babies' immunities. With the partnership of Disney Publishing Worldwide, the program was able to donate over 200 books to the hospital.
Not only can parents read to their children, but siblings also enjoy the selection of books thanks to Hindi's Libraries. Scholastic, Hachette, Penguin Random House, and Simon & Schuster have also donated new books so that Hindi's cause can be included in medical settings and hospitals.
Gang said the program does its best to answer as many requests as they can in order to provide children with books and carry out Hindi's mission of growing kids who love to read.
As for her own kids, Hindi's triplets Eliana, Ezra, and Hudi are nine now. Dorit is five, and Able is three. They are aware of the literacy program, what it stands for, and why it was started. Their father and Hindi's husband, Dovid Kanarfogel reflected on the situation: "It's hard to know how to parent in this situation, and for the most part I have tried to help the kids stay honest and open about what they are feeling and experiencing, and tried my best to model that for them by being honest and open with them. We talk about Hindi whenever she comes up in conversation, which is all the time, and we take each of those moments as they happen. I honestly think the Libraries project has been a healthy part of that process."
Kanarfogel told Scary Mommy the kids take pride in the program and will add the inside label to each book or help pack boxes. "It can feel heartbreaking to me, but for them I think it just feels like life, and if that means that they are deeply involved in a positive community project, then I feel like that must be a good thing."
Positive is an understatement. Hindi's Libraries is not only filling a need for many families and children but is creating connections on an international scale. Kanarfogel noted that there is special meaning in partnering with organizations that serve diverse populations in ways that some local-serving programs can't or don't. He knows the importance of the work being done on behalf of his wife's name.
Hindi's Libraries is a rewarding venture, but there are overhead expenses that need to be met to keep the program going. It costs $25 to ship each box and there have been 450+ requests for shipments when local delivery was not possible. Because they have been given so many books, Hindi's Libraries needs a storage unit to hold the books waiting to be delivered. Gang said folks interested in contributing to Hindi's Libraries can go to their website to make a donation. To incentivize donations, sponsors can also have their name, company name, or logo placed on the outside of the box of books.
The website also lists book drop-off locations and invites those who know of an organization that can benefit from children's books to please contact Hindi's Libraries email address.
The pain of losing Dr. Hindi Krinsky will never go away for those who knew her and still call her mom, wife, friend, and teacher. But the label bearing her name on inside of the book, that lands in the hands of a child, gives the pain some purpose.
This article was originally published on