Hockey Player's Pregame Routine Proves Moms Can Multitask, Dammit
by Megan Zander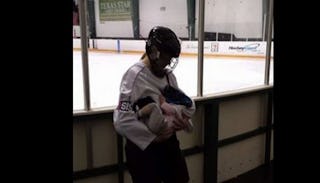 Image via Facebook
Photo of hockey player mom breastfeeding her daughter strikes a chord with other athlete moms
Safety pads? Check. Helmet? Check. Skates? Check. She's geared up and ready to go, but there's one last thing new mom Sabrina Pfeifer does before she hits the ice — breastfeed her five-month old daughter Kaci. Pfeifer recently shared this photo of herself looking like a total boss on the popular Facebook page Breastfeeding Mama Talk.
"My pre-game routine is a little different these days," the picture says. The photo has received over 3,500 reactions so far. While most agree that the picture makes Pfeifer look like a totally awesome badass, others are sharing their own tales of breastfeeding on the sidelines of their favorite sport. Commenter Kit Thornton Adams even shared a photo of herself breastfeeding her six-week-old-son while playing pond hockey. Breastfeeding and skating in the snow a mere six weeks after having a baby? Don't mess with moms who play hockey.
Pfeifer told The Huffington Post hockey has been a huge part of her life since high school. "My husband and I actually met playing hockey, and while we don't get to play together anymore, we make sure we each get time at least once a week to be in a league," says Pfeifer. She currently plays on a co-ed team with the absolutely best name ever called Nuts & Knockers.
Bringing little Kaci to both her and her husband's games allows Pfeier to breastfed on the sidelines. She says her teammates, both male and female have been incredibly supportive. "There are other ladies in the leagues who have shared their stories with me as well," she said. "The majority of my male teammates don't even bat an eye as most of their wives have breastfed in some capacity," she added, noting that there has been a bit of 'good-natured teasing' as well. "
Pfeifer knows she's been lucky in her breastfeeding journey. "It's heartbreaking when I read or hear stories of other women who have not had such an easy go with it or get harassed for simply providing nourishment for their child," she said. It's heartbreaking yes, and it's also infuriating. Which is why sharing photos and stories like Pfeifer's is so important. Hopefully one day breastfeeding in public will be so normal that no one will make any teasing comments at all, no matter how good-natured they might be.
Pfeifer hopes that her photo can inspire fellow parents, not just in terms of their breastfeeding goals, but in terms of their hobbies and dreams too. "After seeing my photo, I hope that people know that life doesn't have to totally stop after you have children ― your main focus just shifts."
She explains, "While it is certainly different, you can still enjoy your hobbies even if they are in a smaller capacity. I hope that after reading my story that people know with the right support it makes it much more likely that you can achieve your personal breastfeeding goals. You find your tribe in the most unlikely of places."