This 'Hocus Pocus' Drinking Game Is The Halloween Party Upgrade We Deserve
by Christina Marfice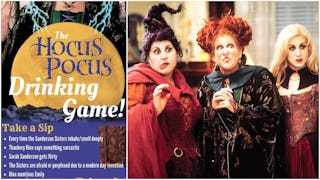 Image via Disney / IMDB
Run extra amok this Halloween by playing this genius Hocus Pocus drinking game
Is it actually Halloween season without multiple screenings of Hocus Pocus? I contend that it is not. And what better way to celebrate the spookiest month of the year than by combining the tale of the Sanderson sisters and a whole bunch of booze? This Hocus Pocus drinking game is the Halloween activity we've been waiting our whole lives for.
The game calls for taking sips, gulps and shots when certain things happen in the movie. For example, you take a sip every time Sarah Sanderson flirts with someone (that's gonna take a refill or seven), and you take a gulp whenever the Spellbook opens its eye or Billy Butcherson loses a limb.
OK, this sounds like way too much fun.
But the most dangerous part of the game may very well be the section that calls for shots. You have to take a shot every time there's a sentimental sibling moment, for example, and every time Mary Sanderson rides her vacuum cleaner instead of a broom stick. It may have been a year since I last saw this movie, but I feel like I remember that happening more than a few times. Bottoms up, amirite?
(That cauldron is filled with booze, because that's how much you're going to have to drink to get through this game.)
We're all about making pretty much anything into a drinking game, especially on a holiday as indulgent as Halloween. Why should trick-or-treaters get to have all the fun? They can have as much candy as their hearts desire, while Mommy and Daddy get some nice adult beverages. A lot of nice adult beverages.
Get all your friends in on the fun by hosting a round of this game as a grown-ups-only Halloween party. Sanderson sisters costumes not optional.
This article was originally published on