Sisters! The OG Stars Of 'Hocus Pocus' Are Reuniting This Halloween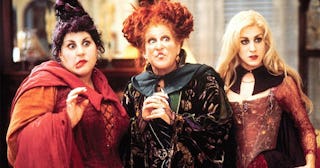 Walt Disney Pictures
The Sanderson Sisters are back! Well, almost — the OG stars of Hocus Pocus will reconvene this Halloween
Anyone who loves Halloween (so, like, everyone… right?) knows that October simply wouldn't be complete without at least one obligatory viewing of Hocus Pocus. And while we all eagerly await news of the Disney+ sequel, this Halloween season brings something just as exciting: a reunion of the OG Sanderson Sisters.
Bette Midler, Sarah Jessica Parker, and Kathy Najimy — aka Winifred, Sarah, and Mary Sanderson, respectively — will come together once again on Friday, Oct. 30. It's about time, too! At this point in 2020, we could all benefit from a calming circle.
Even better? The Hocus Pocus stars are teaming up for a good cause. They'll be hosting a virtual event called "In Search of the Sanderson Sisters: A Hocus Pocus Hulaween Takeover" to benefit Midler's New York Restoration Project (NYRP). Winnie, er, Midler founded the charitable organization in 1995 to foster healthier natural environments around New York City.
Typically, Midler hosts a huge star-studded "Hulaween" costume gala to raise funds for NYRP. In light of the pandemic, though, the organization is shaking things up. For just $10, you can score a ticket to view the virtual event hosted by Midler, Parker, and Najimy. FYI, it won't be re-broadcast, so you only have one chance to catch the show.
https://www.instagram.com/p/CFaTCxmDuGi/
Plus, NYRP has a special selection of Hocus-Pocus-inspired merch. Aptly sold under the organization's Sanderson Sisters & Co. Shoppe, the limited-edition items include things like Book cake pops and the Life Potion scroll. You can even snag a Black Flame Candle! Just don't let a virgin light it; we've had enough tomfoolery this year.
All proceeds from sales of the Sanderson Sisters & Co. Shoppe go towards NYRP's work creating and cultivating green spaces in the Big Apple. Really, it's a win-win scenario. Who among us doesn't want a tattoo of a skull sporting Winifred Sanderson's trademark red coif? We know we do.
https://www.instagram.com/p/CFu3QwHgwL4/
And as if all of that wasn't happy enough news for the Halloween-loving heart, there's more. To raise awareness for NYRP and Hulaween, Midler will be live-tweeting the first night of Freeform's famed 31 Nights of Halloween on Oct. 1. Why? Because Hocus Pocus is playing, of course.
You now have permission to let your pure unadulterated excitement run amok (amok, amok, amok, amok). 'Tis time, sisters!