A 'Hocus Pocus' Sequel Is Happening Thanks To Disney+
by Cassandra Stone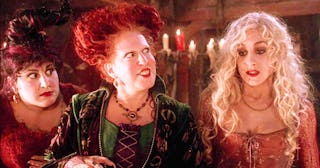 Disney
'Hocus Pocus' fans everywhere, be prepared to squeal harder than Sarah Sanderson
Hocus Pocus, the beloved 1993 Halloween classic that every millennial worth their salt absolutely adores, is getting a sequel. Disney+ (available for $6.99/month or or $69.99/year) has officially launched the development of the new project, which will launch on the streaming platform once production completes. Get ready for the (second) resurrection of the Sanderson sisters and all their hijinks, folks.
The original Hocus Pocus starred Bette Midler, Sarah Jessica Parker, and Kathy Najimy as the three infamous witch sisters who have been cursed since 1693 in Salem, Massachusetts. The witches are inadvertently resurrected 300 years later by teenager Max Dennison, whose family has moved from Los Angeles to Salem. He and his adorable sister, Dani, lead the sisters on a 20th century adventure as they try to thwart the trio's plans of becoming immortal.
While Parker, Najimy, and the Divine Miss M are not officially tied to the sequel, Disney+ has hopes they'll be on board. Because really, what's a Hocus Pocus sequel without the original sisters? Even if the new plot surrounds a different coven (which is blasphemy), we're going to need at least a cameo of the original three. Also Thackery Binx and Billy Butcherson, too, if we're being honest here.
Hocus Pocus was not a huge box office success, scoring just $39 million worldwide on a $28 million budget, according to Variety. And you know what? A lot of movies that "flopped" at the box office went on to become cultural phenomenons regardless (Drop Dead Gorgeous, Office Space, and even The Wizard of Oz, to name a few).
And if nothing else, it's a chance for a whole new generation of kids to hop on board the Hocus Pocus train. Though that hasn't stopped parents from introducing their children to the awesomeness of the original. Recently, Louisiana-based photographer Jennifer Buck of Just Be PhotoJennic Photography had the brilliant idea to conjure up a tweenaged-take on Hocus Pocus with a photoshoot imagining the Sanderson sisters… as kids.
"I love Halloween & doing fun shoots!" Jennifer shared in a Facebook post. "Hocus pocus is a classic!" Perfection.
And if you or your kids are still in the market for the perfect Halloween costume, look no farther than Spirit Halloween, which has a whole line of amazing costumes. The store partnered with Disney to make our millennial dreams come true by offering an entire line of Hocus Pocus merch that puts anything you've seen on Etsy to shame.
Want to dress up as your favorite Sanderson sister? No prob. ("Aren't you broads a little old to be trick-or-treating?" LOL never, TBH. Penny Marshall 4-ever.)
The costumes and accessories are the perfect items to hold us over until the sequel hits Disney+ and we're enchanted by our favorite witch sisters all over again.
This article was originally published on