Hoda Kotb Is Replacing Matt Lauer On The TODAY Show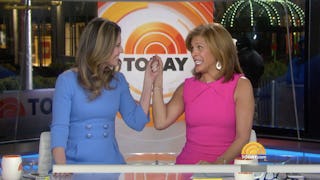 Image via Facebook/TODAY
Kotb is officially joining Guthrie as co-anchor of TODAY
It's official — Hoda Kotb has been named co-anchor of TODAY, joining Savannah Guthrie for the first two hours of NBC's morning show.
Kotb made her official debut this morning and Guthrie made the exciting announcement after her colleague's name appeared in the official credits. "It's 2018 and we are kicking off the year right because Hoda is officially the co-anchor of Today," Guthrie said, while Kotb beamed next to her. "This has to be the most popular decision NBC News have ever made and I'm so thrilled."
Kotb joked that her mom, who was watching in Alexandria, Virginia, had likely fainted from the news and that she was pinching herself with the new role. She will join Guthrie for the first two hours of the morning news program and will also continue to co-host TODAY's fourth hour with Kathie Lee Gifford. According to Variety, the duo will be "at present the only national A.M. program officially anchored solely by a female team."
Hallelujah and amen to that.
"You are a partner and a friend and a sister and I am so happy to be doing this," Guthrie continued during the announcement. "There is no one I'd rather be sitting next to in 2018," Kotb replied.
The new mom to baby Haley Joy has been in the co-anchor role since Matt Lauer was fired as TODAY anchor in November following allegations of sexual misconduct. Guthrie and Kotb broke the news on-air, and since then, she's been filling in until a permanent decision could be made. Lauer's departure was a shock to many, but the women have been crushing it and it's clear they have an undeniable chemistry.
"There's so much of this that was unexpected," Guthrie told People. "But what's really cool about this is just getting to get up everyday and do the things you love to do with your really good friend who you trust and love and enjoy. Our biggest problem is that we actually talk about other things all throughout the show. Sometimes we're like, 'Okay, pay attention. Do your jobs ladies!'"
It seems the decision was one the entire network approved. "We're very fortunate to have someone like Hoda who brings immense talent and tremendous positive energy, and then on top of that happens to have wonderful chemistry with Savannah," NBC News Group chairman Andy Lack was quoted as saying in an email. "It makes this a decision that everyone can embrace and feel terrific about."
2018 is off to a very good start, indeed.
This article was originally published on