Get Your Husbands Ready Because Holiday RompHims Are Here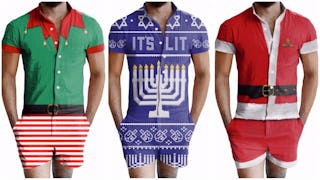 Image via GetOnFleek.com
Have no fear, holiday RompHims are here
Just as the novelty of the "ugly Christmas sweater" is quickly wearing off (or should be, anyway), holiday-themed RompHims are here for your next Christmas party.
Regular RompHims hit the scene earlier this year, providing an opportunity for every grown man who has ever desired to don a onesie and combat wedgies all the live-long day. Now Get On Fleek, an online clothing retailer, his bringing us four fabulous and festive RompHims just in time for the holidays season.
All those "Buddy the Elf" costumes are tired by now. But you know what'll put a little pep in your step this Christmas? Showing off your gams in this bad boy:
https://www.instagram.com/p/Ba9_pRWFP_J/?taken-by=getonfleek
If you know a guy who would love to ho-ho-ho his way around the holidays this year, there's a darling little Santa Claus option:
https://www.instagram.com/p/Ba-XtJ1FsOb/?taken-by=getonfleek
Lucky for us all, these RompHims aren't limited to just the red and green hues of Christmas. The eight crazy nights of Hannukah are also represented in the line.
https://www.instagram.com/p/BbAk8CMFlWV/?taken-by=getonfleek
For a classic touch, there's this all-encompassing version featuring Christmas lights, snowflakes, presents, and all the other holiday trimmings.
https://www.instagram.com/p/Ba_7tvdFwbJ/?taken-by=getonfleek
Pretty snazzy selection, eh? Each RompHim features a button top, zipper fly, and front pockets for full accessibility, practicality, and comfort. No getting completely naked during bathroom breaks required!
The holiday RompHims currently cost $99, which isn't exactly cheap. But it's a small price to pay when you think of the endless possibilities they provide: general husband-torturing, inciting major pearl-clutching with your older relatives over the egg nog bowl, or blowing every single ugly sweater out of the water at the neighborhood Christmas party.
While the regular RompHims may have head you scratching your heads and wondering, "Are that many people buying these things?" The answer to that is yes, they must be. While the price tag may seem a little steep, think of it as more of an investment for years to come — trends may come and go, but the holiday version is the perfect "gift that keeps on giving."