OMG: HomeGoods Launches Online Store
by Madison Vanderberg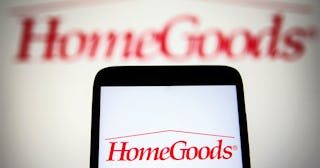 SOPA Images/Getty
HomeGoods goes digital with first-ever online store — and you can shop right now
Your favorite place to buy wrapping paper, a dog bed, and a dutch oven just got even better, because HomeGoods just launched their first online store. It's Marshall's-has-an-online-store-too-now all over again and goodbye paychecks, hello decorative gourds for fall!
Depending on who you ask, the biggest problem with HomeGoods is that you never knew what you were going to get when you browsed their hallowed halls of discount home furnishings. Some people love the discovery of visiting a HomeGoods and finding some buried treasure at bargain prices, while others prefer to go straight to Amazon and buy the same bath towels they get every few years. Now, with their online store, HomeGoods is giving everyone the best of both worlds.
HomeGoods.com launched on September 28, 2021, as a complementary experience to in-store shopping.
"We are excited to expand HomeGoods' digital footprint so customers can shop whenever they'd like," Mark DeOliveira, the President of TJX Digital US, Homegoods' parent company, stated in a press release (via People). "HomeGoods.com will provide a complementary experience to our stores, allowing shoppers to pair in-store purchases with online finds to bring their vision to life."
A quick browse of the new website has the same feel as shopping in-store, just digital. I sorted by "New Arrivals" and started scrolling. Before I knew it, 15 minutes had passed, just like what happens when I go to HomeGoods IRL.
"We are thrilled to bring a second way for our passionate shoppers to discover and shop an assortment they know and love. We hope our customers find the same excitement shopping HomeGoods online as they do exploring the aisles of our stores," John Ricciuti, the President of HomeGoods, shared in the release.
Much like the store, the current online shopping categories are: Bedding, bath, decorative pillows, kitchen goods, seasonal décor, pet and storage/organization. The company said to expect more online categories in the future.
Among the fun items you can find online, include:
A "Pumpkin Spice" travel tumbler ($12.99)
A tent for your pup ($49.99)
An olive wood cutting board ($16.99)
Soft pink mini-fridge ($39.99)
The best part of this HomeGoods online shopping announcement is that it's solved the most annoying part of online shopping: the returns. Returning something you bought online that doesn't have a brick-and-mortar retail location is the worst thing you can wish upon a person. At HomeGoods, you can now shop online and return the items in-store for free. And maybe do some more browsing while you're there.
Brb, gonna buy some throw pillows and get another reusable water bottle.