Trolls' Attempt To Call Black-Owned Business 'Racist' Towards White People Backfires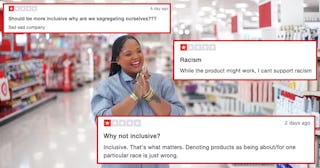 Target/Youtube
Trolls try to call a black-owned business racist against white people until it backfires
A black woman-owned business is at the center of a bizarre scandal because a bunch of mostly white people took offense to a commercial for the brand, calling it "racist" against white people. But in a delightful twist of fate, the attempted boycott backfired and now the company is seeing more sales than ever before.
Beatrice Dixon founded The Honey Pot Company, which produces plant-based feminine care products and is sold at Target, so Target rolled out an ad for the Honey Pot last month featuring Dixon saying that she hopes her success story inspires other black women to start their own businesses as she did. Somehow that line was twisted by online trolls who spammed the Honey Pot with negative reviews, claiming Dixon and her brand are "racist" towards white people.
In the ad, Dixon's exact line was, "The reason why it's so important for Honey Pot to do well, is so the next black girl that comes up with a great idea, she could have a better opportunity. That means a lot to me."
Just like we saw with the Black Lives Matter movement and white people's retaliatory demand for an All Lives Matter mantra, a certain demographic of mostly conservative white people feel like they need to see their race shoehorned into all movements, clearly ignorant to the fact that supporting one person, race, or cause does not mean that it's excluding any others.
Comments on the Honey Pot's TrustPilot review page suddenly filled with rhetoric like:
"Black girls are empowered using this product… I guess whites girls aren't. I'll be letting Target know about this racist company."
"Denoting products as being about/for one particular race is just wrong. I will not purchase any of these products. This should be for all women. What are you telling young girls of any other race?"
"Wish it was inclusive for all children but thanks to your poor choice of words I'll be spending my money elsewhere."
"I can't support a company in good faith that is openly racist about their customers."
The Honey Pot's profile has temporarily been "suspended" while Trustpilot investigates the phony reviews, but the good news is that the drama has resulted in increased sales for the brand.
Dixon told Buzzfeed that that overall sales have increased 20% to 30% since the backlash began and on Monday, which is when the bulk of the racist reviews appeared on Trustpilot, Dixon says sales were up to 50% higher than that of a normal day.
In the meantime, you can support the Honey Pot Company by shopping at Target or online.
This article was originally published on