Teen Talks About Friends Struggling With Depression In Viral Post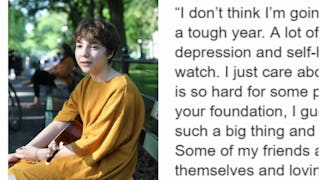 Image via Humans of New York/Facebook
Teen highlights adolescent depression in powerful HONY post
The teen years are hard for many people. The pressure to "fit in," have great friends, get good grades, and join enough extracurricular activities to be a glowing college applicant can be a lot to manage. And a teen in a recent Humans of New York post is highlighting how his peers are really struggling.
In the HONY post, the unnamed teen sitting on a park bench talks openly about how hard this year has been. "I don't think I'm going to miss eighth grade. It's been a tough year," the teen says.
"A lot of my friends are struggling with depression and self-harm, and it's hard for me to watch," the teen says. "I just care about them so much."
"Growing up is so hard for some people. It's such a big thing. It's your foundation, I guess. You're becoming you."
Growing up is hard. And for reasons known and unknown, some get through it unscathed and others really struggle and even, suffer.
"Some of my friends are struggling with loving themselves and loving life."
That is a tough pill to swallow, to think of kids in that much despair.
Many adults don't even have this level of reflection and emotional intelligence. The teen isn't personally afflicted or dealing with mental health issues, but has a compassionate heart that bleeds for them. Hell, I could've used a friend like that in eighth grade. This young person just offered up words we can all live by and many people in the comments section agreed.
Many cheered this teen on for restoring literally all faith in humanity.
"This is a soon to be 9th grader? Faith in Humanity: Restored!! Thanks, HONY."
"We put so little trust in the younger members of our society, yet look how they shine. This beautiful young person just put out so much wisdom in one sitting. We could all learn a thing or two from children."
"The wisdom this kid has already… They make me feel like maybe the entire world really isn't a giant dumpster fire right now. Hope in our kids is a beautiful thing."
"This kid has it figured out a lot more then plenty of adults do."
Many offered their words of support and solidarity.
"You sweet, precious, beautiful, compassionate, incredible, and insightful child. You will be the rock for so many of those friends who seemed lost. Don't lose your light. Growing up is a challenge and middle school is especially difficult. Everyone will see your strength and believe that it'll be okay. It's all a learning process."
And others shared their own rocky and painful adolescent experiences.
"I'm 23 now but I still vividly remember being 13 like it was yesterday… Middle school was easily the worst 3 years of my life. Bullies at that age are relentless."
"I'm 73 and still changing. It's been a pretty good life so far…except for 7th and 8th grades. Those were the pits! Those are about the worst years for everybody."
"I have been there! I started self harming when I was in 8th grade. I felt hopeless. I was relentlessly bullied. I ate lunch in the bathroom. I had no friends. I tried to commit suicide…"
"I've been there. My mom told me recently that when I was in eighth grade, the guidance counselor told her that if my parents didn't do something, they were going to lose me. I struggled with depression and self-harm all through my teen years."
As the last comments point out, yes those young teen years are hard because of hormones and societal pressures, but for some it's more than hard. According to the Centers for Disease Control and Prevention (CDC), approximately 7.6 percent of Americans age 12 and over had bouts of depression for two weeks or more. And those are just people that report it. Bear in mind that mental health issues are still highly stigmatized in our society so the numbers are likely to be much higher.
Additionally, a 2016 CNN article reported that the rate of suicide deaths among children 10 to 14 years old has doubled since 2007. These are pretty stark numbers.
Members of the medical community, parents, and teachers are all very concerned which is why screening kids for depression may help. The U.S. Preventative Services Task Force is recommending that all pediatricians and family physicians should screen adolescents routinely for depression. The group also recommends that doctors have a system in place to connect young people to treatments for depression if they need it.
"I think they forget that we're still learning. They think that they're already who they're going to be. They think they know the future. And it's going to be horrible. And they'll never be able to fix it," the teen says. "But that's not true because we're still changing. And we'll always be changing. Even when we're old, we'll be changing."