Mr. Horn Moron Has Apparently Had His Request For Organic Food Fulfilled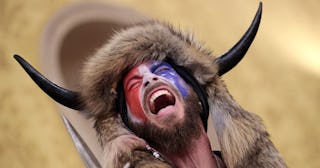 Win McNamee/Getty
Jacob Chansley was vewwy vewwy sad he didn't get owganic food while in pwison
Unfortunately for most of us, the image of Jacob Chansley, the horn moron decked out in the Halloween Spirit version of Leonardo DiCaprio's costume from The Revenant is seared into the hippocampus of our brains as part of the Capitol insurrection on Jan. 6. You'll probably also recall that Mr. Chansley was super bummed that federal prison doesn't serve organic food, unforch. And because nothing is fair when it comes to white men who commit crimes, Chansley has moved to a different facility.
Chansley, the self-described "QAnon Shaman," was transferred to the Alexandria Detention Center after his attorney argued that his client had gone nine days without eating because organic food wasn't served at the jail he was initially placed in. A judge has since ordered corrections officials to provide Chansley with the special diet.
Sigh.
Apparently Horn Moron — er, Chansley — lost 20 pounds during the ordeal, according to his attorney, Albert Watkins. He considers eating an organic diet to be part of his "shamanic belief system and way of life," Watkins told the judge.
Leave it to a violent white man, who appointed himself a "shaman" of an terrorist group that believes A-list celebrities are drinking the blood of infants whilst committing pedophilia in the basement of pizza shops, to pretend he's a religious figure and demand to be treated as such.
On Thursday, U.S. District Judge Royce Lamberth said that the District of Columbia Department of Corrections had asked for Chansley to be moved because they couldn't honor the court's order to feed him organic food, but a jail in a nearby Alexandria facility could provide the fertilizer-free, pesticide-free diet that does not in any way change the nutritional value of food.
Chansley was indicted on civil disorder, obstruction, disorderly conduct and other charges for his role in the riot at the Capitol on Jan. 6. He told law enforcement officials that he traveled to the Capitol "at the request of the president that all 'patriots' come to D.C. on January 6," per TODAY.
During his initial arraignment, Chansley's mommy, Martha Chansley, showed support for her baby boy who was directly involved in a plot to murder the former vice president and likely several members of Congress in a domestic terror attack.
"He gets very sick if he doesn't eat organic food – literally will get physically sick," Martha Chansley said at the time.
Roger that, Martha. Great job, by the way.
Raise your hand if you're "physically sick" of men like Chansley being catered to while plenty of innocent people of color rot in prison for non-violent crimes. Here's hoping this is the last we hear about this guy for a long, long time.