Hospital Lets Dog Visit Her Dying Human One Last Time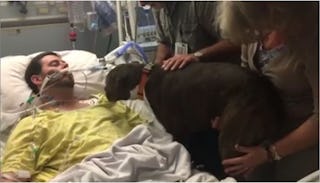 In order to give closure to a dying man's beloved dog, a hospital allowed her one last visit
Michelle Jessen's brother loved his dog, and his dog loved him. When the 33-year-old faced a sudden end to his too-short life, Michelle asked the hospital if the dog could say goodbye, so he wouldn't be confused when his master didn't return home.
The hospital obliged. And we have the touching, tragic video to prove it.
Dogs aren't often welcome in hospitals, not that we imagine they're exactly clamoring to visit. But when Ryan Thomas Jessen landed there after what he thought was merely a migraine, it turned out to be something far, far worse. His family and the staff of a California hospital came together to allow his beloved dog, Mollie, one last visit.
"The hospital did the sweetest thing for us and allowed us to bring my brother's dog in to 'say goodbye' so she'd know why her human never came home," Michelle Jessen explained on Facebook. "If you knew my brother, he really loved his sweet dog."
According to The Washington Post, the video of the dog saying goodbye has been viewed more than 10 million times.
The migraine unfortunately turned out to be "a ventricular brain hemorrhage," according to Jessen's mother's own Facebook post. "It happened so quickly."
In the video, when Mollie gets a chance to see Ryan, she sniffs excitedly, before some space is made between his legs for her to lie down.
Michelle followed up the initial post to let people know that her brother, an organ donor, would have his heart given to a 17-year-old boy.
"As sad as it is to lose Ryan," Michelle Jessen wrote in the later post, "we know his heart is going to bring so much joy to the family of the recipient. I wish Ryan could know what a difference his heart will make for that young man."
Mollie, though, isn't going anywhere.
"Don't worry about the dog!" Michelle Jessen wrote. "We're keeping her!!! She's part of the family."
Good for the hospital for recognizing how special Mollie was to Ryan, and bending the rules a little bit to let her have one last moment with her master.
Now excuse us while we sob for the next several minutes.
This article was originally published on