Here's Our Headache-Free Breakdown Of How A Dental Savings Plan Actually Works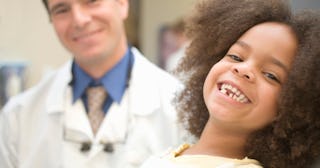 PNC/ Getty
Everyone wants a bright and healthy smile, but at what cost? Dentists aren't cheap if you don't have dental insurance, which explains why many Americans skip their annual checkup. But not going to the dentist and risking your health is a far higher price to pay. And for parents with kids, dental health is just as — if not more — imperative. This is when we set them up with good habits they'll take with them into adulthood, and with the CDC reporting 20 percent of kids between the ages of 5 to 11 have at least one decayed tooth, preventative care is more important than ever. By the way, that number is lower for teens, but not by that much: The CDC reports 13 percent of children between the ages of 12 and 19 have at least one untreated tooth decay. Those numbers can unfortunately be further divided by the financial background: Children between the ages of 5 and 19 from lower-income households are twice as likely (25 percent) to have untreated tooth decay than their counterparts from higher-income households (11 percent).
So if you don't have dental insurance or your health insurance doesn't cover dental care, you might want to consider a dental savings plan for your and your family's pearly whites. A dental savings plan, otherwise known as a dental discount plan, is a membership designed for individuals and families who are looking to save money on their dental costs and might be the right option for you.
Think of it like a Costco membership except instead of saving money on giant cases of toilet paper and olive oil, you'll receive discounted prices on various dental services. Interested? Here's what else you need to know about dental savings plan and keeping those teeth healthy and happy.
How does a dental savings plan work?
If you're wondering how a dental savings plan even work, you're not the only one. According to the latest online search data available, there are nearly 3,600 searches of just that every month. Here's how it works in the most basic of terms: Instead of paying monthly installments or premiums like traditional dental insurance you'll pay a membership fee upfront and receive a fancy membership card that you will have to show at each dentist visit. This fee is usually less than $150 a month annually for families and could be $100 for an individual. Typically, plan members will save a certain percentage (anywhere from 10 to 60 percent) on various treatments and services, everything from crowns to extractions to even braces. These are all performed from participating dentists who belong to a network agreeing to offer them at a discounted price. Unlike traditional insurance, though, you'll have to pay the dentist directly.
What are the benefits of a dental savings plan?
Sometimes it makes dental care less expensive, especially if your teeth are pretty healthy and you don't need a lot of services. Also, dental discount plans don't involve deductibles, so you don't have to have paid a certain amount for the discount to kick in. There aren't copays either. Another perk? There is no waiting period to use your plan for treatment (well, except maybe in the waiting room). So if you have an aching tooth, you can be seen right away. But what's probably the biggest benefit to a dental discount plan is the unlimited cap on dentist visits. That means if you're having a tooth emergency, you can be rest assured you will be looked after for as long as necessary without any hassle.
Another positive is that pre-existing conditions will not keep you from getting a dental savings plan. For people with few to no dental issues looking to save money on preventative care dental discount plans might be the route for you. These plans are also good if you need much more dental work than will be covered by your insurance company's maximum limit. Dental savings plans might also work if you are older given that Medicare doesn't cover many dental treatments.
What are the best dental discount plans?
There are various dental discount plans out there. Some of the best dental discount plans available for 2020, rated by Authority Dental, include: Careington 500, Aetna Dental Access, Cigna Dental Network, iDental United Concordia, Solstice Plus Plan One, CVS iSave, Sele-Dent, Dentemax and Avia, which according to the website, are available in most states.
You can also search for dental savings plans in your area that suit your needs here. You might also want to check out Fair Health to search for average and expected dental costs so you're aware of what to expect and what's a reasonable price for services.
As an alternative, if you already have a family dentist, it's also worth asking if they participate in any dental savings plan. If not, they might work with you and your financial situation. Some dentists might be willing to provide you with payment plans. If you really love your dentist, you might want to suggest they join the dental discount plan network so you can continue visiting them.
How do I choose the best dental discount plan for me and my family?
We all want the best for our family, so when it comes time to finding and locking down the best dental discount plan for yourself and your family, you should do your research and consider plans based on your budget, location, dentist, or the specific dental treatments that you need. Like with so many other things, ask around. It's also a good idea to inquire with friends and family for any recommendations they may have. It's always a relief to work with a dentist that's already been vetted by those who you trust the most. Also important? Channel your inner attorney (or ask a family member with legal experience) and read the fine print of the dental savings plan. While many plans include the basics, like cleaning and x-rays, if you think you'll require more extensive treatment, like crowns or orthodontics for kids, be aware that some plans might not cover it. Compare plans until you find the right one for your needs.
Related: How Do People Afford Orthodontia For Their Kids Without Going Broke?
What if you don't have a dentist you love yet?
While some families have gone to the same doctors or dentists for generations, that's just not the case for many families. People move. Insurance (or discount dental plans!) changes or gets too expensive. Totally normal, Mama. As mentioned previously, consider your current dental situation and pick a discount dental savings plan that will cover your needs, no matter how dire. Next, start with your plan's list of dentists and do your research. Many people don't know this, but the Better Business Bureau also rates doctors and dentists. Try cross-referencing dentists on your plan with dentists in your area. From there, check out their websites. If you're incredibly nervous to return to the dentist, consider looking for dentists who advertise no-fear, happy experiences. Another option is to check in with other family members, friends or moms. Are you part of your local moms' group on Facebook? You can ask for recommendations from those mamas or simply name your well-researched top 2-3 and ask for opinions. Follow the glowing reviews.
This article was originally published on