How The Season Of Divorce Made Me Grateful For My Marriage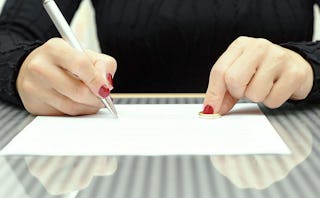 During the final weeks of college, my girlfriends and I went out for one last drunken night of karaoke and proclamations of our future success. We were all art majors and convinced that we would take over New York and usher in a new feminist era of art—one so astounding and articulate of the human condition that minds would literally explode upon realizing the magnitude of what we had created.
That was the season of grand plans and invincibility.
For the next few years, as we ticked off the marks of our early 20s, we each dated the most amazing guy. We rented small apartments crammed with big dreams of artistic creativity and landed jobs that would finally outfit our lives with the ability to look like the grown women we were turning into. Cheap beer and karaoke were traded in for martinis and soirées.
That was the season of dating.
In what felt like one red-hot minute, it seemed that all of my girlfriends were suddenly engaged to the most amazing guys. Lunch plans were made in order to discuss the urgent business of caterers and DJs, bridesmaid dresses and table seating charts. I stood in nearly a dozen weddings in fewer than two years. My closet was suddenly filled with a disproportionate amount of taffeta and sea foam green.
That was the season of weddings.
The epoch of swollen bellies and closings on new houses came and went so fast it was hard to keep up with who was pregnant and who was moving. For nearly a year, my credit card statements read like a diary of constant baby showers and housewarming gatherings. Pottery Barn was becoming my second home.
That was the season of settling.
While all of my girlfriends found their rhythms in marriage and motherhood and work, I was quietly settling into a long courtship with my now husband of 10 years. We didn't rush into children. We didn't take the high-paying jobs or the house in a gated community. We bought a small fixer upper in a rural place. We had a baby. We eloped in our dining room. At every turn, we protected our dreams to the extent that our financial and social lives allowed us to. I maintained an art studio while my husband built boats. We lost contact with a lot of my art school friends, but we made new friends, as happens when time slips and tastes change.
And then one day my phone rang and it was my friend Alice. She was crying uncontrollably and wanted to meet at a coffee shop. When I arrived and found her sitting alone, tears streaming down her face, I put my arms around her and asked her what had happened. She began to unwind a slow and painful story of how she had been caught cheating on her husband. She was getting divorced.
For the next couple of years this same sort of story played out over and over again. These women who were once so determined and assured of their future successes in life were one by one signing divorce papers. Their children's schedules now included custody arrangements and visitation rights. Sides were taken and friendships were lost.
I watched unobtrusively from the margins of our friendships. In those emotionally laden conversations with my friends, who were now graduating to the status of middle-age divorcée, the striking and lasting effect of it all was the cogent warning that nothing lasts.
That was the season of divorce.
The seasons that were once teeming with life and expectation and so closely jammed together have slowed their pace. Our kids are all growing tall and beginning to dream of love and changing the world. Last names change once again. Miles grow longer into the distance and more old friends fade into memory.
When my old college girlfriends talk to me about divorce, they always say that they worry about their children. They are excited to be single again. But they worry about the next chapter. What I don't tell them—what I feel I never could really share in a fair way—is that their stories of betrayals and growing apart, fighting and divorce, all served as reminders for gratitude and levity in my own marriage.
While my husband and I hold on tight to marriage as we manage raising children and cobbling together a creative existence that keeps a roof over our heads, I wonder what new beginnings must feel like for my girlfriends, who once chattered into the wee morning hours with such certainty about how their lives would unfold.
I wonder how I endured the season of divorce with my marriage intact.
This article was originally published on