How to Actually Make a Giant Difference During Teacher Appreciation Week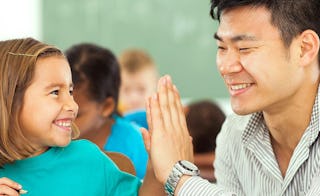 A few years ago, when I was first on Twitter, I couldn't resist responding to a local journalist who had shared three negative news stories in a row about educators and education. Didn't she know it was Teacher Appreciation Week? Couldn't she balance out the bad with some good?
She responded to me that the good wasn't news and the bad was what the public wanted to hear.
There is so much good, I responded to her. So much good.
But the sad thing? The good in education almost always gets ignored.
Last year I wrote a plea in the local paper to look for the good in education. To find the things that mattered to the real students and real teachers and real community of the school. Look beyond the scores, I pleaded. Talk about the students challenging themselves to learn, the teachers pushing students to think creatively, the multitude of ways that teachers go above and beyond to make a truly well-rounded educational experience possible for all kids.
This week there will be countless teachers who are appreciated with homemade cards, Pinterest-inspired crafts, poems and mugs, candies and free meals. Parents and students will do their best to let us know that they appreciate us, that they see our hard work, understand our dedication. We will love those small gestures, the tokens left on our desks and in the teacher's lounge for us to enjoy.
But this year, I want something more. I want something that doesn't cost any money and hardly takes any time or effort.
I want the story to change. And I want you to help change it.
This week, I want you to take to all your social media platforms and post something positive about a teacher you know. Hopefully, if you are a parent, it's your child's teacher. Maybe it is a teacher you once had. Maybe it is a teacher you know well. I want your photos on Instagram and your quick tales on Twitter and your status updates on Facebook to help change the tone of negativity so often dealt to my profession. Help tell the story this week of what teachers really do.
Stories are what change the world, what connect us together, what inspire us to be better. And if all the media cares to share most times are the negatives, it is up to us to change that. To insist that there is more, that there is better, and that we do want to hear it.
Share a teacher's story.
Share your stories. Our stories. Share our expertise and our compassion. Share our creativity and our ingenuity. Share our tiny successes and our big celebrations. Share them always but especially this week. Use the hashtags #TeacherStories and #ThankATeacher
Change the tone.
Change the conversation.
That's how you can really appreciate a teacher.
This originally appeared on the author's blog, This-Here-Now.
This article was originally published on