How To Be More Romantic Without Spending A Dime
by Team Scary Mommy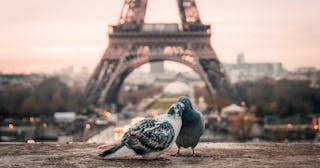 Fabrizio Verrecchia/Unsplash
If pop culture has told us anything about romance, it's that it involves grand gestures, candlelight, and plenty of roses. And sure, those could work from time to time, but without the feelings behind them, they're just empty actions and objects. So how does one become more romantic? You can try love messages or cards full of classic quotes about love, but that's not always a sure thing.
Of course, romance is in the eye of the beholder no matter what stage of love you're in, but there are some general strategies that can help you become a more considerate and romantic partner. The good news is that just like J.Lo sang, these tips don't cost a thing. The (maybe) bad news is that you can't just buy your way to romance — you have to put the work in. Here's how to be more romantic.
Read more from our self-improvement package and get tips on how to feel good about yourself, how to be a better parent, how to get out of a slump, how to communicate better, how to enjoy life, and how to make a relationship last.
Express Your Love Using Words
Even if you're not someone who is comfortable talking about their feelings, do let your partner know that you love them — even if you don't use those three little words verbatim. According to Markus Steffen, Sue Klavans Simring and Gene Busnar, who wrote Making Marriage Work for Dummies, here are a few ways you can express your feelings of love beyond simply saying "I love you":
Tell your partner about your hopes, dreams, and secret thoughts. "There are some things that you can only communicate through words," they write. "And few things make your partner feel closer to you than letting her in on your most private thoughts and visions."
Tell your partner often how much you love being in a relationship with them. Then, talk about their qualities that you enjoy most. Maybe it's their sense of humor, or the way they greet you at the door when you come home from work? People in serious relationships often spend a lot of time complaining about one another's faults and shortcomings. "If you want to stir up the romantic fires in your relationship, try letting her know what she does that pleases you most," they write.
Give Your Partner Your Undivided Attention
If you're scrolling through Instagram when you're having a conversation with your partner, it sends the message that whatever you're looking at is more important than they are. To be more romantic, do the opposite of that, and give them your undivided attention. "Whenever you can, take the time to give your partner 100 percent of your attention when they want to talk to you," Dr. Barton Goldsmith writes at Psychology Today. "Put down the remote control or whatever you're reading, face your partner and say, 'What would you like to talk about?' It will make your partner feel loved and important to you."
Play and Laugh Together
Being in a serious relationship doesn't mean you and your partner have to be serious with each other all the time. In fact, being playful and making each other laugh is an important part of being romantic. "When the routines of day-to-day life begin to take over, you may forget that playing together is as important as working together," Steffen, Klavans Simring and Busnar write. "Few things help you appreciate the good things in life — and in your marriage — than adding a touch of child-like playfulness." So go head: be silly and make each other laugh.
Make a Point of Making Time for Each Other
Scheduled romance doesn't exactly sound romantic, but sometimes it's the best way to ensure that you're making time for that aspect of your relationship with your partner. "Make time to make-time," Goldsmith writes. "Plan a romantic rendezvous during the week. You can get a room at a local hotel or plan to have the house all to yourselves. Just the anticipation of being together in this way will add spark to your romantic life."
Make Time For Yourself
This might sound counterintuitive since you're here searching for tips on how to be more romantic with your partner, but it actually makes so much sense. How can you make someone else happy if you're not happy yourself? That's the question Dr. Arthur Aron, PhD, a psychology professor and expert on relationships, asks in an interview with OprahMag.com. Aron, who is responsible for the now-viral New York Times, "The 36 Questions That Lead to Love" says searching for red flags within yourself is the first true step of finding romance and happiness with a partner.
Date Night, Date Night, Date Night
Keeping the spark alive every day is important, but it's also important to make regular ol' evenings feel a little bit different, a little bit special. And you don't need to spend a lot of money or any money doing it, either. Here are just some ideas:
Plan a romantic dinner at home for your partner.
Go bowling.
Have a board game day at home.
Visit a new cafe
Cook a new type of cuisine together.
Visit an art gallery or museum.
Create an indoor picnic.
Teach each other how to do something new, like cooking a certain meal or a new skill.
Go to the movies.
Attend a pub trivia event.
Go for a romantic stroll in the rain.
Go bar hopping.
Go swimming at an indoor pool.
Indulge in a couple's massage.
Attend a comedy show.
Take turns watching each other's favorite sitcom episodes.
Ask each other questions specifically meant to get to know each other better.
Talk about your first impressions of each other.
Talk about your long term and short term goals with each other.
Offer to give each other massages.
Share your favorite memories of your time together.
Send Flirty Texts
Check out your text chain with your partner. You've said, "Love you." But, what else? Chances are good that your texts are full of reminders, honey-dos or just quick notes about the kids/pets. Take a few moments each day to send a text that genuinely connects the two of you. This can be flirty or dirty, but it can also be a sweet text. Maybe it's just a simple, "We should go back to (place you visited just the two of you). That was such a romantic trip." Or "Can we wake up early and cuddle tomorrow?" Get a little flirtier with texts like, "I woke up next to the hunkiest guy this morning!" Send a scandalous pick-up line or a slightly risky pic from your cubicle or work bathroom stall after lunch. And never, ever underestimate the simple luxury of a text that says, "I love you and can't wait until we're home together tonight." It's not a request for help or even sex – it's simply expressing how much you enjoy their company. Or, of course, you can always start sexting.
This article was originally published on