How To Find A Divorce Lawyer Who Has Your Best Interest At Heart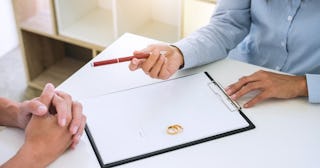 Pattanaphong Khuankaew / EyeEm/ Getty
Even in the most amicable situations, divorce is a difficult and painful time. Which is why tips and advice on how to make the process easier is always welcome. Not many of us will have first hand experience with the ins and outs of divorce proceedings and legal lingo, like how to file for divorce or what it means to have an uncontested one. Which is why finding the best divorce lawyer is crucial. A good attorney will not only answer your questions but will also be able to make your divorce more affordable and a faster experience rather than an expensive and emotional nightmare. Here are tips on how to find the right divorce lawyer for you.
Ask Your Friends and Family
Ask around. A referral is always helpful and if a divorce attorney has already been vetted, then that's a huge help. If you don't know anyone who's been recently divorced but know a lawyer, then ask them for a recommendation. Lawyers know other lawyers.
Know What Divorce Process You Want
Yes, there are different divorce processes — from mediation to litigation to collaborative divorce — which is why it's important to know which route you and your spouse are intending. For example, an uncontested divorce, which is a court proceeding where the parties are mutually seeking a divorce, and have agreed on all related issues, such as support, division of property, and child custody and access, might do better with a mediation. An uncontested divorce is also beneficial for an online divorce. With an online divorce, no attorney is required. Instead, an online legal service, like US Legal, will send you an interview-style questionnaire about the details of your divorce, and then will prepare your service filing for a fraction of the cost of an attorney.
How Much Are You Willing to Spend?
Knowing your budget is crucial when it comes to spending money on an attorney. While you don't want to spend a ton of cash that you don't have on a fancy law firm, you also want to make sure that you have the best lawyer for your case. It's important to balance what you can realistically afford with the level of legal services you need. Choosing the right divorce lawyer will also help make you better financial decisions when it comes to your divorce, and will help streamline the process for you, including helping you to detail your assets, which is all part of financially preparing yourself for the divorce.
Make Sure You're Asking the Right Questions
Divorce attorneys get a bad reputation for being money hungry sharks, which is why it's important to find one who has your best interests at heart. Ideally, a good divorce lawyer will be able to answer all of your questions pertaining to the divorce as well as be an effective communicator who makes you feel comfortable. After all, you will be sharing a lot of intimate information with this person throughout a process that could take a number of months, if not years, to finalize.
Key things to keep in mind: do they understand you and your story? Do they have experience? Do they understand the law? Are they professional yet personable? Do they care about you and your family? Do they communicate well with you? Will they be able to help with child custody, and effectively negotiate child support? Are they able to provide you with resources and support post-divorce?
Don't Be Afraid to Shop Around
It's best to keep your options open. While it's tempting to sign with the first lawyer on your list, don't. It's in your best interest to visit at least two or three lawyers to ensure that you'll end up with the right choice for you. Many lawyers offer a free consultation. If you do end up paying for a consultation, bear in mind that a lawyer should be offering you valid advice during this time — and not a sales pitch. Ultimately, you want to choose the lawyer who will approach your case in a way that works best for you.
How to Talk to Your Kids About Divorce
Of course probably the most stressful thing about getting a divorce is talking to your kids about it. According to Psychology Today, whether your kid is two years old or twenty-two years old, you want to keep it simple and factual. Your children don't need to know the explicit details surrounding the breakup. Stick to the facts, and explain why this is the best thing for the family, and emphasize that while things are changing, some things will never change — like how you and your partner will always be family for your kid and how much you love them. Then, open up a dialogue and invite your kid to express their feelings.
Understand that the process will be difficult for your child, and while they might not fully understand or respect your decision, by keeping a unified front with your ex and showing your love and commitment to the family unit through actions (i.e. you both attend their ballet recital and keeping up with regular routines and activities), they will eventually become accustomed to this new normal.
Related: How To Break Up With Someone You Live With
This article was originally published on