So You Want To Be Verified On TikTok — Here's How It Works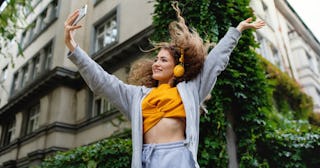 Halfpoint/Getty
TikTok is a veritable treasure trove of literally all the things. It's where we look for cleaning hacks, dance trends we'll never master, epic TikTok memes, and the best battles between Gen Z and millennials. Amid all this are the verified creators who lead the charge. But that coveted blue checkmark on TikTok doesn't go to just anyone. This badge of verification is saved for those TikTok deems the elite, and the verification process is a bit different from what we've seen on other platforms like Twitter or Instagram. TikTok keeps its requirements for verification closely guarded — only saying on its site that verification is for an account that is "authentic, unique, active, and — of course — adheres to our Community Guidelines and Terms of Service." Luckily, we have some good ideas on what you can do to position yourself to get noticed by the video-based app. Are you ready to be a TikTok star? Keep reading to find out how to get verified on TikTok.
What does it mean to be verified on TikTok?
Just like with other social media platforms, TikTok offers a blue checkmark of verification to signify that the person behind the account is who they say they are. Whereas platforms like Twitter and Instagram have often been more selective about who can get verified — typically saving it for public figures — TikTok went a different route. After recognizing that the platform provided a place for regular people to become well-known creators, TikTok started verifying everyone who had become notable and built a significant audience. Of course, TikTok also verifies people you'd expect to be verified, like celebrities and brands, but those profiles will sit in the verified category alongside creators who built their accounts on clothing hauls, telling jokes, or dancing.
Is it hard to get verified on TikTok?
Getting verified on TikTok is much trickier than with other platforms. While users can submit a request for verification on other social media, they can't do that on TikTok. The process is solely left up to the powers that be at TikTok. And unlike other social media platforms, TikTok doesn't have direct thresholds or instructions that help ensure you get verified. This means you'll see some TikTokers with pretty large followings that still don't have a checkmark.
How can I get verified on TikTok?
So, how do you get them to verify you? Here are a few things you should do:
Build a significant following. It doesn't have to be massive, but it should be in the few thousands at least.
Post consistently and keep your content interesting. Keeping a schedule of posting daily (or more) should help build your engagement. Which brings us to…
Aim for engagement. TikTok wants to see that followers are enjoying your content and engaging with it time and time again.
Try to go viral. This is easier said than done because it's hard to predict what will go viral, but study the kinds of videos that are going viral and join in.
Participate in trends. Try out the dances, make the TikTok recipes, duet bigger creators, etc. Show TikTok that you're using the platform how it's intended to be used.
Engage with other creators. Not only do you want followers to engage with you, but you want to engage with other creators. This can be especially helpful if bigger accounts engage with your content in return and help you grow your account.
Follow the rules. TikTok has a set of community guidelines in place and sticking to these will keep you in TikTok's good graces.
Make headlines. It will help your case if you can get media coverage in some way. If TikTok sees that people are talking about you and your account, they're probably more likely to give you that blue checkmark.
What happens if you get verified on TikTok?
When verified on TikTok, not only are you awarded with a verified badge (a blue checkmark), but it also boosts your account's credibility. It comes with a sense of trustworthiness and respect from other accounts, which helps increase your following and how willing people are to interact or engage with your content. It's basically a game-changer.
How do you get a TikTok to go viral?
There's no straightforward way to go viral. Some can attribute it to luck, while others can mock it up to talent. However, one of the few ways to get verified on TikTok is to be famous on social media. So here are some tips on how to break the internet so you can get verified.
Start your video with excitement. Remember, people have short attention spans, and you need to catch them as soon as they come across your video.
Keep the video as short as possible for the same reasons listed above.
Be original and record your audio or include trendy songs or audio clips.
Tell an interesting story. It doesn't have to be lengthy, either. People remember a good tale and are more apt to share an incredible story.
One of the best things about TikTok is you can find many life hacks and tips that are incredibly helpful. Create content that is useful, or offers advice. There's an audience that really appreciates this type of content.
How many followers do you need to get verified on TikTok?
There's no firm answer to this because no one really knows. The more followers you have, the better, but having thousands of followers doesn't necessarily mean TikTok will verify you, because there's more to it than just followers. Like we laid out in the previous section, TikTok is looking at a lot of aspects of your account, and the number of followers is just one piece of it. However, if you're growing your following, chances are you're doing the other things on the list as well, which is all increasing your chances of verification.
Can you pay to get verified on TikTok?
In short, no, you can't pay to get verified. However, you could pay a social media expert to run your account for you in hopes that they would do what it takes to get verified. Someone more familiar with the platform and how social media works can give you an advantage when trying to get a blue checkmark. But if you're looking to pay TikTok, that's not going to be an option.
Do people who are verified on TikTok get paid?
While there's no hard-and-fast rule saying you have to be verified to make money on TikTok, it's a logical deduction — the more followers and influence you have, the more likely you are to land lucrative brand deals. And, we de discussed above, the more followers and influence you have, the more likely you are to get verified. Curious how much these top TikTok'ers are making? Well, some of the biggest TikTok stars are pulling in six figures per endorsement deal.
This article was originally published on