How To Have A Successful Family Vacation In Yosemite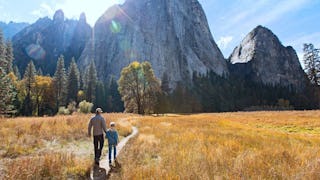 noblige / Getty
A few months ago, we realized that Carolyn and the little dudes were gonna have ONE more week of glorious summer, while most kids everywhere else were going back to school…so we decided to throw caution to the wind and book a three-day, two-night stay up in Yosemite. I hadn't been since I was a kid, and the little dudes have been quickly becoming total pros with the #campvibes, so why not?!
We decided to book a spot at the HOUSEKEEPING camp. We honestly didn't know what that meant, other than that we didn't actually need to bring our own tent. When we arrived, we were most pleasantly relieved. It's basically a canvas cabin with one concrete wall, and a canvas roof that extends over the porch. There's a double bed and a bunk bed inside, along with some nice storage, and ELECTRICITY (phone/camera/iPad charging!)!
We lucked out with a spot directly off of the river. The little dudes immediately made their way down to skip rocks and check out the big mountains. I know you always hear about how amazing Yosemite is, but seriously, it is amazing. The raw beauty and power of nature are basically just hitting you in the face everywhere you look. It's almost overwhelming, but in the best kind of way.
Here are a few adventures that were a success for us:
– JR. RANGER CAMPFIRE: This was a great introduction for the kids to learn about the wildlife in the park. There was a lot of talk about bears though, and that in addition to the big bear food lockers kinda freaked Coop out, but I think he liked the idea that if a bear came by, we'd just make him a s'mores. Overall, it was a cool lesson to know what's out there in the wild, and why it's important to take care of it.
– HIKES!: We started our first full day with a hike to Yosemite Falls. It was pretty mellow with only a few small hills, but I think arriving at a dry waterfall was a buzzkill. We then went over to Bridalveil Fall, because we saw some water there when we drove into the valley. The dudes loved this one, because even though the trail was steeper and longer than the last, the end of the trail offered flowing water and a field of rocks to climb closer to the bottom of the falls. There were a handful of warning signs to be cautious when climbing, but I guess that goes for any rock climbing, right?
– BIKE RIDE: We scored big time with our bike ride adventure! There are a few different places to rent bikes from while in the park, but we made our way over to the Curry Village rental station. We grabbed a bike with a trailer attached for Carolyn and Charley, while Cooper and I got a tandem bike. It took a minute to get the hang of it, but we loved it. Coop also loved how he was riding, but could also look around and relax if he wanted to, without stressing about riding off the path. The bike paths are well marked and take you all around the valley floor. We stopped for lunch at a picnic spot by Degnan's Deli (which has killer veg options). We rode back to return the bikes, and stopped in Curry Village for some ice cream.
– SWIMMING: We followed the river that backed up to our tent cabin and found a radical swimming spot to cool us down post-bike ride. The dudes were lovin' it. Coop ventured out to a log in the deeper part of the river and was showin' off with some cannonballs. Meanwhile, Charley seemed content just rolling himself in sand. The water was chilly, but not bad at all! And the views weren't bad either!
Of course there was also s'mores makin', plenty of deer and squirrels, rock climbing, spooky stories, and campfires, but if you find yourself lookin' to make the trip to Yosemite with your little ones, hopefully this may get you started in the right direction.
All in all, it was a quick stay, long drive, and completely exhausting trip, but we all fell in love with it up there. The conditions are considerably different during all of the seasons, so we're planning to head back up and check it out some other time of the year!
This post first ran on Getting Rad With Dad.
This article was originally published on