How to Improve Your Marriage With Songs By Rush
by Liza Wyles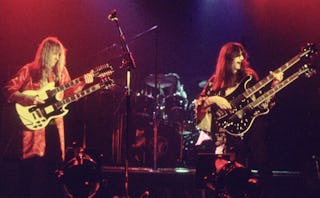 Rush.
If pop culture is any indication, Rush songs facilitate the expression of men's feelings. Just take a look at I Love You, Man, Freaks and Geeks (basically anything with Jason Segel), and an episode of Togetherness, when Mark Duplass's character recognizes the rejected look on his pal's face and launches into a diatribe about the meaning of "Tom Sawyer." This perks up his buddy and they continue their "conversation" with a wordless air drum solo as the song plays.
Rush kicks off their 40th anniversary tour this month. Even if you were never into them, you have some kind of working knowledge of Rush. Like how they make grown men feel. And that is an amazing power to wield.
Going on 10 years of marriage, I can't believe I've been trying to improve communication between my husband and me by suggesting we talk, while I've had all his Rush albums at my disposal all along.
Do you want to improve communication with your guy? Meet him at the 1056-mark. That's Rush speak for "halfway," because 1056 is half of 2112 … but I'm skipping ahead here.
Get your guy to open up through these tracks from Canada's most prolific prog-rock trio:
When You Want to Know What's Bothering Him: 'Distant Early Warning'
"You sometimes drive me crazy, but I worry about you."
When You Want Him to Know What's Bothering You: 'The Trees'
"There is unrest in the forest, there is trouble with the trees / For the maples want more sunlight, and the oaks ignore their pleas."
When You Want to Drop Hints About a Birthday Gift: 'Red Barchetta'
"Suddenly ahead of me, across the mountainside / A gleaming alloy air car, shoots towards me, two lanes wide."
When You Want Him to Say the 'L' Word: 'Closer to the Heart'
"You can be the captain, I will draw the chart / Sailing into destiny, closer to the heart."
When You Want to Have the Commitment Talk: 'Force Ten'
"Tough times demand tough talk demand tough hearts demand tough songs …"
When You Want His Opinion, Which Is Just a Test of How Well He Knows You Need Him to Know Your Opinion: 'Limelight'
"All the world's a stage and we are merely players, performers and portrayers …"
When You Want to Have the 'Are We Done Having Kids?' Talk: 'Vital Signs'
"Everybody got mixed feelings, about the function and the form."
When You Feel You've Drifted Apart: 'Subdivisions'
"Any escape might help to smooth the unattractive truth."
When It's 10 Years Later and You Want Him to Look at You the Way He Did When You Gifted Him With Rush Tickets, Back When You Would Spend Ridiculous Amounts of Money, Time and Effort Curating the Perfect Presents for Each Other, Unlike Now When Birthday Celebrations Consist of Take-Out and a Movie On Demand, Through Which You Will Both Sleep: 'Time Stand Still'
"Freeze this moment a little bit longer, make each sensation a little bit stronger."
When You Want Some More Space: 'Fly by Night'
"The change of a season, is enough of a reason, to want to get away."
When You Want to Get Back Together: 'Ghost of a Chance'
"Somehow we found each other, somehow we have stayed, in a state of grace."
When You Want Him to Slow Dance—Nope. You're thinking of Journey's 'Faithfully.' But play 'Freewill' and you'll probably get him in a good enough mood to agree to go to a flea market with you.
"Genetic blends, with uncertain ends, on a fortune hunt that's far too fleet."
When You Would Like Him to Stop. Playing. Rush: 'The Spirit of Radio'
"One likes to believe in the freedom of music."
This article was originally published on