How To Prepare For Divorce, Even If You're Not Sure Where To Start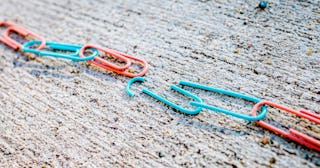 Jackson Simmer/Unsplash
Mentally and emotionally preparing for a divorce is stressful. But at the same time, so is staying in a marriage that's not working. Making the decision to file for a divorce is a major step — but it's still just the first step in what could be a long process. If you're looking to prepare for a divorce but are not sure where to start, you're not alone. According to the latest search data available to us, that term is searched for nearly 1,900 times per month. Before you seek out a divorce lawyer and before you even talk to others around you about it, take time to sit with your thoughts and decide what you foresee as the ideal post-divorce situation. How do you want to divide your assets, what about child custody if you have children? What about any shared pets? The more you have an idea of what you want the outcome of the divorce to look like the easier it will be to convey to your attorney and, ultimately, your partner.
If you've decided to file for divorce, but are unsure what to do next, everything can seem daunting. First things first, arm yourself with a divorce checklist and prepare any necessary documents you may need to start the proceedings. Here are a few other tips that can help you prepare for a divorce and hopefully, make everything a little simpler along the way.
Start Saving Money
When you're used to sharing expenses with another person, going back out on your own can be financially challenging. That's why it's important to start saving money once you know you're going to get a divorce. You may also want to open your own bank account, if you haven't done so already. "The court considers any money you earn while married to be marital property and subject to equitable division between you and your spouse," Bryan Driscoll writes at LegalZoom. "However, you can open a separate bank account and have your paycheck deposited there to ensure your spouse doesn't spend that money frivolously before the asset division process."
Get Organized and Start Documenting Everything
Start getting your paperwork together — everything from financial statements to deeds for any property, to a monthly budget for expenses for the kids. Find a divorce checklist that can help walk you through the process. Meanwhile, start documenting everything. "Because you know you need to provide this to your attorney during your divorce proceeding, start planning now by keeping track of your family finances," Driscoll writes at LegalZoom. "This includes both your income and spending and that of your spouse. Keep your credit card statements, your bank statements, tax returns, receipts, and other bills." If you and your spouse have children together, keep a record of their activities and which spouse is responsible for things like taking them to soccer practice, or other extracurriculars or social events.
Here are just a few examples of documents you should have ready to go for when you file.
Income tax returns
Employment records
Financial records (such as bank statements)
Investment account statements
Pension plan information
Retirement savings accounts
Children's bank accounts
Debt records
Wills and trust agreements
Social Security statements
Credit report
Monthly budget worksheet
Take Responsibility
Given how overwhelming divorce can be, it may be tempting to be a passive participant in the process — but that's really not in your best interest. "The best way to get through a divorce is to take an active role in the process, even if you are not the initiator," Cheryl Dillon, a divorce coach tells Equitable Mediation. "You will reach a better settlement and your divorce will likely take less time, be less stressful and cost less money."
Get Support
Divorce can seem like a lonely process, so it's very important to have a strong support system in place to help you through. Whether it's a group of friends, a trusted family member, a faith-based group, or other organization, there are people who can help. "Recognize that there are sources of divorce support that you can leverage to help you sort through the menagerie of feelings you're experiencing and learn how to deal with them in a healthy and constructive way," Dillon tells Equitable Mediation. "When you can control your emotions, you can better prepare yourself for your divorce negotiations and approach them with a calm, level head."
Not every divorce requires a long, hard-fought court battle over the assets and children: in some cases it's possible to sort everything out through a mediator. But for this to be an option, both spouses have to agree on absolutely everything and have a completely uncontested divorce. In most cases, though, you're going to need to find a divorce attorney to represent you in court. This process may take some time, though, as you'll likely have to meet with several lawyers before finding one that is a good fit for your specific needs.
Does adultery affect property division?
In most cases, judges will not take infidelity in a marriage when it comes to property division, however, you should still document if your partner has strayed outside the marriage. Depending on the state the divorce proceedings are taking place in and the circumstances of the case, adultery does not usually impact child custody agreements as well, as long as the child's welfare is not in danger.
This article was originally published on