How to Rock a Socially-Distant Halloween Like the Hallow-Queen You Are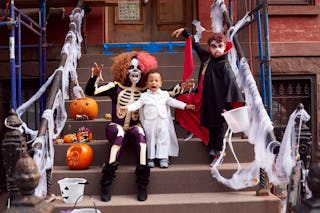 Crank up that Monster Mash because Halloween is almost here. Even though this spooky season may have significantly more hand sanitizer and a whole new kind of face mask, you can still have a frighteningly fierce Halloween. One way we're upgrading our socially-distant spooktacular? Treat Town.
WHAT AND WHERE IS TREAT TOWN?
Everywhere there's internet! Treat Town is a free app that lets you trick-or-treat entirely online. You can knock on doors digitally and get real treats! Mars Wrigley, the creators of all your favorite candy, has made it possible for families to trick-or-treat for the entire month of October all from the comfort of your couch.
You'll start by creating a username to set up your account. It's recommended you use something other than your real name. (Invasion of privacy is not the kind of scare we're going for this year.) Be MonsterMommy2020. Become FrankenLady123. Call yourself something really scary like "Overdue Water Bill" or "Indefinite Virtual School." Then, you'll customize your digital door and buy candy credits to fill your virtual candy bowl for virtual trick-or-treaters.
Once your Candy Giver profile is set up, you can add your kids as Trick-or-Treaters to your profile. They'll be able to collect candy from doors across the U.S. including special stops at places like Disney's The Haunted Mansion. When they go to a door, they'll also have the option to get a "trick" which can be anything from virtual glitter bombs to animated silly string.
From now until October 31, you can take a trip to Treat Town by downloading the app on iOS and Android or access it via a desktop at Treat-Town.com. There'll be new surprises regularly revealed up until Halloween so remember to check back in throughout the month. Here are 6 more ways to trick out your Halloween this year.
GO ALL OUT WITH YOUR AT-HOME DECOR
I'm talking orange and purple twinkle lights, paper pumpkins, actual pumpkins, and fake cobwebs. You could also use this as an excuse to "forget" to clean up the real cobwebs in the corners of your ceiling. Oooh, spooky!
While you're at it, you can set up your virtual doorstep on Treat Town with your kiddos. Customize your door style, color, decor accents, and more without a single extra trip to the store. Don't forget to add friends and family on Treat Town so you can trick-or-treat at each other's doors. Just search their username or send them an invite link.
SPOOK-IFY YOUR SNACKS
The only thing better than treats are thematic treats. Try making these brownies with M&M spiders that require just three ingredients: M&Ms, icing, and store-bought brownies. (Look, Halloween doesn't have to be homemade to be hauntingly good.) If you're looking for snacks to make with your little baker, these Twix monster bars are easy to make, easy to customize, and extremely easy to eat.
MOVIE MARATHONS
If you've yet to introduce your kids to the Sanderson sisters, Jack Skellington, or Beetlejuice, now is the time. It won't be hard to find some new favorites flicks while you're at it! And don't forget the most crucial element of every movie night: snacks. Pop some popcorn, pour a bunch of M&Ms in there, give it a shake and thank me later.
HAVE A CANDY TASTING NIGHT
Are green Skittles the best Skittles? Settle it once and for all with a family candy tasting night. Pick up a bag or three of your favorite candies or redeem the Treat Town candy credits your kids have gotten. You can get those goodies delivered right to your door or redeemed at select retailers like Walmart and Target. Real candy might expire but your Treat Town candy credits won't! Post-Halloween, you'll still be able to redeem any credits (including unused credits you paid for) for Snickers, Twix, and your other favorite Mars Wrigley candy.
Also, while candy tasting, don't forget to make comments like "this one has strong chocolate flavors" and "I'm getting notes of fruit."
TREAT IT FORWARD
Treat Town lets you pay your candy credits forward by donating them to the Boys & Girls Clubs of America. When your kids have candy credits they want to redeem, you'll see an option to donate below the options to redeem online or in-store. Those donated credits will become a cash donation to the Boys & Girls Club. No tricks, just treats.
Check out the Treat Town FAQ page for more tips to virtual trick-or-treating and long live the Hallow-queen!
This article was originally published on