How To Save Money On Kids' Clothes — Hey, They'll Outgrow Them, Anyway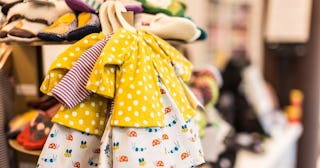 Baby Natur/Unsplash
Before I became a mom, I nannied a toddler. One of my favorite tasks was getting her dressed each morning and choosing outfits from her nearly endless stockpile of cute clothes. Her family did well, but they weren't rich. How could they afford so many great pieces for their little girl and keep two teenagers looking trendy?
According to the Department of Agriculture, families spend about $1,280 on clothes each year. That adds up — especially if you have multiple kiddos. Kids grow fast, so you don't want to spend a fortune, right? If you're wondering how to save money on kids' clothes like you saved on maternity clothes, we've got you covered. It turns out that saving money on kids' clothes is not only super easy, but it's actually a bit of an adventure.
1. Treat Clothes Like Leased Cars
Something I learned quickly as a new mom was that babies, especially, grow incredibly fast. Some of my baby's first outfits were only worn once. By the time I got the chance to launder them, she'd outgrown that fancy dress I spent a fortune on. Thanks to my nannying days, I knew to save her clothes and take them to resale shops (more on that later). What I didn't know, was that I had to do my work to make any money back on those tiny cotton dresses and jersey leggings. The biggest thing resale shops look for is stains.
Now, when buying clothes for my kiddo, I keep that in mind and look for clothes that are busy and won't show stains or will hold up well to thorough washing. I also try to keep up on pretreating stains. Just like with a leased car, the better care you take of the clothes while you own them, the more you'll get for them later.
2. Hit The Clearance Section
Shopping clearance requires a bit of fortune telling, as you have to be able to make an educated guess on what size your kiddo will be next winter when you buy that clearance snowsuit in March. And, of course, there's always the chance you'll get it wrong. But, if the deal is good enough, that's a gamble worth making. (If they outgrow it before they can wear it, you can always take it to a resale shop.) This is probably the best way to shop ahead for kids, and if you have the storage space, you can buy really high quality designer outfits for a quarter of the price if you shop at stores like Century21, TJMaxx, Marshalls, and even Burlington. Those stores often carry all the basics from top brands that have made their way down to the clearance section because they're out of season. So do the math for the kiddos and don't feel overwhelmed by the tiny hangers. If you have the stamina to dig you can walk away with some absolute steals.
This is also a great place to shop for much more expensive items like outerwear and shoes. Who knew shoes for toddlers could cost nearly three times what their clothes go for. Many parents tend to splurge a little with shoes as foot development at this stage is so important. Look for things like the arch, size, and material. No one wants tiny preschooler toes and skin getting irritated because of the wrong shoe material.
Keep in mind that not everything in the clearance section will be seasonal, either. Target's baby section, for instance, rotates out their Carter's, Cat and Jack and Gerber basics a few times a year. When a new line is released, those designs are plastered on warmer and cooler clothes. That means the clearance section will be stocked with last season's designs, but in a variety of styles to cater to any temperature… so you don't have to plan out a year in advance.
3. Make Your Own Clothes
Making your own clothes requires a bit of skill, but you don't need a super fancy sewing machine or two decades of seamstress experience. Pinterest is filled with easy kids' clothes patterns. A lot of patterns even start with reusing your old clothes or linens (pillowcase dresses!), so you don't have to spend a bunch of money on fabric.
4. Hit The Resale Shops
Remember that talk about treating your child's clothes like a leased car? Here's why: Buying gently-used clothes is the way to go. Places like Once Upon a Child —or Plato's Closet for tweens and teens — are filled with adorable clothes still in great shape. That makes them the ultimate place to go rack up savings on kids' clothes. Many franchises even have small sections devoted to boutique brands or popular characters. If you want a Hanna Andersson wardrobe on a Garanimals budget or if your little Mouseketeer is only wearing clothes with Mickey ears, resale shops should be your first stop. If you're really good, you can trade in enough clothes from last season to offset most of the money you'd spend for next season.
5. Facebook Marketplace Is Your Friend
The downside of resale shops is that they typically top out at paying 50 percent of what they think they can make from a sale. (Think: The shirt originally sold for $8, they'll resell it for $4, so you're lucky if you get about $2 out of it.) A lot of moms are turning to Facebook Marketplace as a way to buy and sell clothes. There seems to be two different Marketplace trends: Selling expensive brands piece by piece or selling "lots" by size. Either option is a great way to find cute digs for your babe and help a fellow mama out. But, there are two things to keep in mind: 1) Always meet somewhere public and 2) Take a few minutes to go through the lot, so you don't get stuck with a trash bag full of gross clothes.
6. Try Resale Apps
Have you heard of Kidizen? Kidizen is similar to a resale or consignment shop, except it runs from an app and each parent is responsible for posting, pricing, selling and shipping their own pieces. It's a lot of work for the seller, but it's great for the buyer. Why? Instead of searching all the shelves at all the stores to keep your fancy nancy in flamingos, you can use the app's search feature for "flamingo" and anything described with that word will come up. Nearly everything my toddler owns has a flamingo, Scotty dog or rainbow on it. It's a lewk, for sure. And, despite catering to my own fickle whims, I haven't spent a fortune on clothes for her because I've bought used.
7. Designate "Play Clothes"
That thing about Hanna vs. Garanimals? Girl, we get it. Jessica Simpson makes cuuuuute baby clothes. And the flipp-y sequins on everything at Limited Too that are all the rage for tweens? Of course, you want her to fit in at school. But, those clothes don't hold up in the sandbox or during scooter tumbles. Our mamas had it right with the "good clothes" and "play clothes" concept. Save your last nerve for something bigger than ripped Aeropostale jeans. Have a drawer or two set aside for clothes that are, in essence, disposable.
8. Never Underestimate The Power Of Mom Friends
It's absolutely imperative for your child to have kids their own age to play with, sure. But, a friend (or cousin) that's a year or two older is a blessing in disguise for your clothing budget. I met my best friend long before kids were ever on our radar, but I never realized just how lucky I was to have her until I had my first baby two years after she had her last one. Every time she brings her little to visit her "sister," she also brings bags and bags of cute hand-me-downs. There's really nothing more fun than sending snapchats of my toddler wearing her daughter's old dress. It makes both of us happy and helps us feel close, even though we live hours apart.
That same mom connection can be made on mom groups on Facebook, for example. There are plenty of moms looking to clear out their storage and offload entire mini wardrobes their kids will no longer be using. Most of the time it's free for gently used items, other times it's at a nominal cost like $50 for all 18 month clothes or tons of items that ends up costing pennies per piece. You just have to keep your eyes open for the posts.
9. Thrifting Can Save Money On Kids' Clothes, Too
Character clothing is expensive but the one thing I always wanted for my kiddo was a "Where The Wild Things Are" onesie. I didn't, however, want to spend $20 on a new one. Every time I found one in a resale shop, it was too small or somehow not right. On a random trip inside Goodwill before a doctor's appointment, I finally stumbled upon the perfect one… for $2. It can be quite the hunt to find great stuff at thrift stores (all the good stuff went to consignment), sometimes it's worth ducking into a shop when you have a few minutes to spend. As long as you don't go in with something specific in mind, you'll almost always find something amazing. (Bonus: if you love Lularoe, I've found that thrift stores in fancy neighborhoods are often overflowing with it.)
This article was originally published on