How to Stay Sane When You Have A Crying Baby in Your Car
by Scary Mommy Team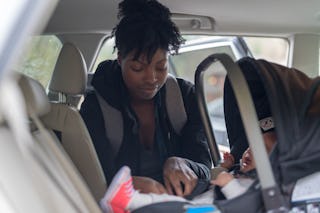 One of the most stress-inducing aspects of being a new mom is hearing the distressed cries of your baby while driving. And when it's just you and your baby in the car? Amp it up by a factor of about 100. It's that nerve-jangling combination of not knowing what's causing the screams — "Are you hungry? Uncomfortable? Just generally annoyed you're not in the womb anymore?" — and not being able to do anything about it while you're operating a vehicle.
As much as you want to start bawling right along with le bebe, it's actually not the best option. For one thing, you're driving a car and we're pretty sure "driving while sobbing" is against the rules. (Or something.) For another, it won't actually do anything to help you stay sane. And staying sane, getting everyone safely to the next stop, is the real objective here.
So what do you do? Well, we've got a few tried-and-true methods moms have used for decades. Try just one or a combo — whatever it takes to keep you and your precious cargo safe.
Prep Before You Leave The House
The first and most important thing to do is prepare before you start your journey. That means anticipating the things that might make your baby upset enough to kick it up a few decibels. If you can, plan your drives when the baby is well-fed and in a fresh diaper. Make sure car seat straps are comfortable by always removing extra layers — even the fanciest car seat can get really warm, really fast.
Also? Get a car that gets you. No, seriously. Different life stages require different things. As soon as you start a family, your car becomes your second home for the next many years. Which is why we like Nissan. Because they get us, they really do.
Nissan understands that as our families grow, what we drive should grow with us. The All-New 2021 Nissan Rogue has the Most Standard Safety Features* in its Class with Class-Exclusive Suite of Standard Safety Shield 360 Technologies*. A well-designed, comfortable family vehicle loaded with safety features can remove at least some of the little stressors of parenting. For example, the Nissan Rogue has rear sunshades to keep the sun off of a sleeping baby. That kind of thoughtful design can help minimize the chances of a full on back-arching explosion of screams from the back seat.
Put On A Car Concert
If, despite your best pre-mission prep, your baby starts to meltdown, the first thing to try is singing. It doesn't matter how terrible your voice is. Remember that it's your baby's favorite sound in the whole world. Play music she likes — even if that means playing the same song approximately one million times — and sing along. And hey, if it doesn't calm your baby down, it just may calm you down.
If your impromptu concert doesn't work and pulling over isn't an option, there are still a couple more options before pulling over.
First, try white noise. Crack a window enough to let the sounds of the road minimize your concentration on the baby. Yes, it's a little uncomfortable the first few times you try to drown out the sounds of screams. But sometimes it's all you can do.
Focus On Getting There
If it's too cold or too wretchedly hot to leave the window cracked, take it to the next level: concentrate fully on your driving. Make that your only focus. Hands at ten and two, eyes on the road, focused only on getting where you're going.
Essentially, you've got to make a choice: drive the car or pull over and tend to the baby. You can't do both. If the crying isn't slowing down and you find yourself getting stressed, find a safe place to pull over. Then take some time to regroup before getting back on the road.
Oh! And one more thing. When a baby who's been uncontrollably crying finally falls asleep, do not stop driving. Drive to the border if you need to. Let a car sleeper sleep and use the time to calm down, while reminding yourself that you're actually a great mom who can handle whatever parenthood throws at you.
As stressful as it can be, don't let the fear of a crying baby keep you from going places. The bottom line is that babies cry. Sometimes for absolutely no reason. Once you've done what you can, remind yourself that he is safe and fed and that he's going to be just fine. And so are you.
Learn more about how Nissan just gets it at Nissanusa.com.
*AutoPacific Segmentation. 2021 Rogue vs. latest in-market competitors. See Owner's Manual for safety information. Availability of features vary by vehicle model year, model, trim level, packaging and options. Base Models Compared. Based on manufacturers' websites.
*AutoPacific Segmentation. 2021 Rogue S and above vs. latest in-market competitors in the XSUV Mainstream Midsize Class. Nissan Safety Shield 360 Technologies include Automatic Emergency Braking with Pedestrian Detection, Blind Spot Warning, Rear Cross Traffic Alert, Lane Departure Warning, High Beam Assist and Rear Automatic Braking. See Owner's Manual for safety information. Base models compared. Based on manufacturer websites
This article was originally published on