How We Do Family: Trystan Reese Writes About Adoption, Trans Pregnancy, Love, And LGBTQ Parenthood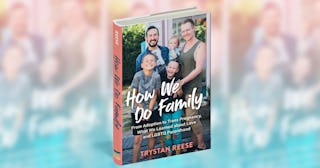 Scary Mommy and Trystan Reese
I learned Trystan Reese's name the same way most of the world did: He was "the pregnant man." Reese and his partner, Biff Chaplow, were expecting their first baby together as a couple and their story was everywhere.
They are gay, which wasn't completely taboo in 2017, but Reese is transgender and the awareness of transgender folks was new for the general public. Even if I hadn't been researching transgender people and their information with unquenchable curiosity and secrecy, there was no way to miss something that went so viral. Even my ex-partner's mother was talking about it. I wanted to know every detail about them, but not just because Reese was transgender and also a pregnant man; he was—and still is—charming, and his joy was infectious. If you don't want to take my word for it, please watch this performance on The Mystery Box Show. And then order his new book.
"How We Do Family: From Adoption to Trans Pregnancy, What We Learned About Love and LGBTQ Parenthood" puts many of Reese's stories in one place. The book is joyful, insightful, and so damn lovely that you're doing yourself a disservice by not owning it.
"How We Do Family" doesn't focus on the bigness of the media sensation that was Reese's pregnancy. Instead it's a love story about a couple who adopted Chaplow's niece and nephew when his sister couldn't care for them. It's about marriage, parenthood, miscarriage, pregnancy, and resiliency. It's about living your life with intention and centering your story in an authentic way that forces others to retell it with integrity.
When first heard Trystan Reese's name, I had been exploring my own gender identity for years, and while I was comfortably queer I was trying to determine what and who I was. If I wasn't the female I was assigned at birth, was I a transgender male? My knowledge of nonbinary identities didn't exist yet, so instead I followed every story I could that had transgender people at the center — and those included video clips, articles, and images of Reese.
And it wasn't just Reese; his relationship with Biff was, for lack of a better word, pure … despite what many people accused them and other queer and trans people of being. One woman took the time to send Reese this message when he was six months pregnant: "As a Christian, I hope that you give birth to a dead baby, because that baby would be better off than a baby that has to be born to someone like you." Comments like that don't slide off even the most resilient skin.
Several years later on the Moth Mainstage, Reese recounted the way the negativity started to seep in: "One night, I had a really horrible nightmare where I was giving birth, not to a baby, but to a monster with two heads, and a forked tongue and a tail, and I woke up, and I was crying and shaking, and Biff was like, 'What's wrong?' and I couldn't tell him. All I could say was, they hate us. And I didn't really know that before, that people hate us."
I saw the negative, bigoted, and ignorant comments folks felt empowered to place on the internet while safely behind their laptop or phone too; I expected them. While I know there's nothing bad, wrong, or sinister about being transgender, not everyone agrees. Transgender people weren't new in 2017 nor were pregnant transgender men, but the awareness of transgender folks having children didn't sit well with many people—to put it nicely. Add the ability and desire to become a pregnant man and you have too many people offering Reese and his family unsolicited and negative opinions on their decision to have a child instead of the usual well wishes when one learns another human is pregnant.
I wanted to follow their story because it was beautiful. I want you to get to know Trystan and Biff's story beyond the headlines too. Seriously, this family is gorgeous, and I dare you not to get lost for hours on Reese's Instagram feed.
I got an early copy of "How We Do Family" and I felt a sense of protectiveness when I read it, because Reese's vulnerability gives you permission to be just as open with yourself, and it's scary. I'm also in awe of the path he has paved and the representation he has provided for the joy and normalcy of transgender pregnancies. Too many transgender stories focus on the trauma we have to endure, overcome, or fear. "How We Do Family" is a celebration of transness and LGBTQ parenthood. Throughout the book are sections called "Notes From Life in Our Family" which offer suggestions, insights, and questions that make you feel like you're getting guidance from a life coach, therapist or best friend. Reese writes gentle — but very clear — wisdom from someone who has seen a lot of bullshit and still leads with love.
Reese is also the founder of Collaborate Consulting and he and his team provide trainings and workshops, speaker sessions, consulting, and partnerships for companies and individuals looking to improve their business, project, and themselves in "LGBTQ inclusion, racial justice, equity for the trans community, reproductive justice, inclusive journalism, marketing to the LGBTQ community."
Reese continues to create opportunities to learn about and celebrate the queer community in visible ways with clear boundaries. It's not just how he does family, but how he does life — and we can all learn from him.
Order your "How We Do Family" here.
This article was originally published on