Yoga Saved Me During The Dark Time After My Son Was Born
by Margaux Calemmo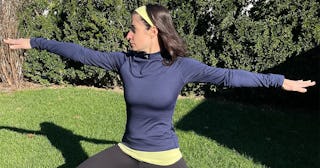 Courtesy of Margaux DelGuidice
When I was 24 years old, I was featured in an advertisement for a kickboxing and mixed martial arts gym. I was jumping rope in a boxing ring, abs on display, with the words "The More You Sweat The Less You Bleed" as the background. Sparring was my drug of choice in my early twenties. After the endorphin buzz from kickboxing wore off, I moved to a CrossFit addiction.
In my early thirties, I heard a friend and fellow gym rat rave about the tenacity and burn of hot yoga. Halfway through my first class, I wanted to join the girl that ran out of the room to throw up, but I stuck with it. That was a humbling experience, but I still failed to realize that strength manifests itself in many forms, not just with brute muscle. Hot yoga became my new drug of choice — I was hooked.
RELATED: Feeling Extra Bendy? Give These These (Hard!) Advanced Yoga Poses A Shot
At 37 years old, pregnant with my son, I was a devoted yogi, attending regular classes several days a week. I tried prenatal yoga, but it moved too slowly for me. Instead, I was keeping my twists open and doing headstands at 38 weeks pregnant. Two weeks before I gave birth, a kind instructor suggested that I stop pushing so hard and allow my body to rest and prepare for what was to come by exploring more restorative poses. I nodded politely and smiled but refused her advice. I did not want to pause; I wanted to move and sweat.
My pregnancy was easy. Despite the difficulties I had conceiving, I was one of the lucky ones that was able to work out and feel great throughout the journey. Admittedly, I was brash and a bit arrogant toward the end of my pregnancy. Being a mom to my growing fetus was easy so surely, I thought, mothering a baby would be similar. As veteran moms out there know, that turned out to be far from the truth. When my son was born, the seeds planted by postpartum depression and anxiety blossomed into invasive weeds, their vines choking my will and stealing my strength.
Supported by my family, I reached out for help and began working with my doctor and a social worker. During our bi-weekly therapy sessions, I had to relearn everything I thought I knew about courage, strength, and weakness. My brashness was gone, left on the floor of the delivery room alongside my arrogance that dissipated the first night I was alone with my son, unable to quell his piercing, incessant cries.
Four months after his birth, I weighed less than I ever had in my adult life, and my weakness was apparent. Friends and family stopped by to see the baby and were alarmed by my appearance; my once toned, fit body hijacked by a scraggly shell. I attributed the muscle loss to my mental weakness, the inability to stymie the anxiety that kept me chained to my bed with the oppressing weight of my son's video monitor in my hand, replacing the heaviness of dumbbells I once brandished with ease.
It was during a postpartum therapy session, as I debated returning to my yoga class, still terrified of showcasing my weakness, that I remembered the words of a former instructor in the early days of my yoga practice. "You cannot muscle through it, Margaux, you have to give your body time open up and ease into the poses." My face burned with shame as I tried to awkwardly force my body into a triangle pose when it clearly was not ready. All my kickboxing and CrossFit muscles were no match for these new shapes, for this new method of moving my body; Yoga was a different journey and required a softer, steadier form of physical strength that manifested from the practice of mindfulness and promotion of peace.
When I finally found the courage to return to a yoga class, the instructor invited us to collectively meditate before the sweaty asana work began. In the past, I would have been annoyed, as I often dismissed the mantras, breathing, and chanting as frivolous to the actual movement. This time I humbled my ego, opening my heart as she imparted the wisdom, "We are not moving in circles; we are spiraling upwards." By embracing my yoga practice as more than just a workout, I carried those lessons with me off the mat and into my daily life. My life was taking a different path — not the one of failure I had convinced myself I was on, but one that acknowledged and embraced weakness as an opportunity for slow and steady growth.
Four years after that inaugural postpartum yoga class, the world entered lockdown due to COVID-19. The coping tools that had kept my anxiety and depression in check disappeared abruptly when yoga studios were shuttered, and the gym, along with its stellar nursery program, was closed indefinitely.
But my strength persisted. The slow lessons I had learned over the years guided me during those difficult times. The owner of my yoga studio began posting videos, complete with breathing exercises, that my son and I did together to get our wiggles out. When the weather became warmer, yoga in the park started. Twice a week, I welcomed the ants that crawled across my bare feet as I luxuriated in the pleasure of releasing my fears and worries by grounding down into the earth.
The realization that yoga saved me during one of my darkest times inspired me to become a certified yoga instructor for children and teens. Ironically, five years after I rebuffed a kind yoga instructor when she suggested I explore a more restorative practice, I am now embarking on a new journey to pursue my restorative yoga certification. The urge to muscle my way through life will always be there, but now I know to pause and find freedom in the breath, even during the most difficult of circumstances.
This article was originally published on