Chadwick Boseman's Alma Mater Renames College Of Fine Arts After Him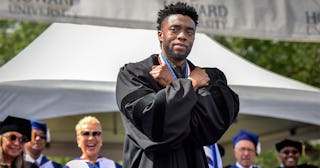 Bill O'Leary/The Washington Post/Getty
The university renamed the College of Fine Arts after late actor and alum, Chadwick Boseman
In August, the world mourned the loss of award-winning actor, Chadwick Boseman. And since, the Black Panther star has been honored and memorialized in many ways, from a stunning mural at Disneyland showing Boseman as King T'Challa doing a Wakanda salute next to a young boy wearing a Black Panther mask, to a new Marvel Studios opening in Black Panther on Disney+. Now, Boseman's being honored at his own alma mater, Howard University, which renamed its College of Fine Arts after him.
"We are very excited. This is the right thing to do," Howard President Wayne A.I. Frederick says in Howard University's press release.
Howard University renamed its performing and visual arts school after Boseman on Wednesday. Boseman, who died on August 28 at the age of 43 from colon cancer, graduated from the university in 2000 with a bachelor of arts degree in directing.
"Chadwick's love for Howard University was sincere, and although he did not live to see those plans through to fruition, it is my honor to ensure his legacy lives on," Frederick says.
The university plans to add a new building to campus that will house the Chadwick A. Boseman College of Fine Arts, as well as the Cathy Hughes School of Communications, its TV station, WHUT, and its radio station, WHUR 96.3 FM. Walt Disney Co.'s Executive chairman, Bob Iger, has volunteered to raise funds for not only the construction of a state-of-the-art building but also an endowment named after Boseman.
"Through his tremendous example, he inspired millions to overcome adversity, dream big and reach beyond the status quo, and this college named in his honor at his beloved Howard University will provide opportunities for future generations of artists to follow in his footsteps and pursue their dreams," Iger says in the release.
The Boseman family thanked both the university and Iger for the "honoring our beloved Chad with the renaming of the reestablished College of Fine Arts" as well as "spearheading the fundraising efforts of this development."
"Chad fought to preserve the College of Fine Arts during his matriculation at Howard and remained dedicated to the fight throughout his career, and he would be overjoyed by this development. His time at Howard University helped shape both the man and the artist that he became, committed to truth, integrity, and a determination to transform the world through the power of storytelling," the family says. "We are confident that under the dynamic leadership of his former professor and mentor the indomitable Phylicia Rashad that the Chadwick A. Boseman College of Fine Arts will inspire artistic scholars for many generations."
Leading up to Howard University's announcement, Howard students created and circulated a petition to have the fine arts college named after Boseman. The announcement also comes weeks after actress and alumnus Phylicia Rashad was named dean of the fine arts college. Rashad actually trained and mentored Boseman while a student at Howard.
"Unrelenting in his pursuit of excellence, Chadwick was possessed with a passion for inquiry and a determination to tell stories — through acting, writing, and directing — that revealed the beauty and complexity of our human spirit," Rashad says.