Dad's Honest Words Remind Parents Not To Sweat 'The Small Stuff'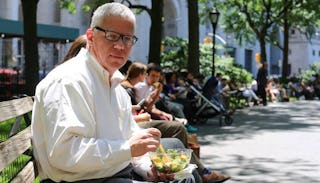 One dad's heartfelt advice on Humans Of New York is going viral
The photography page Humans Of New York (HONY) offers no shortage of inspiring and thought-provoking posts, but a recent share is going viral because of the way it's resonated with parents.
Last week, HONY's photographer Brandon Stanton shared a photo of a man sitting on a bench in the park. In the photo's caption, the man talked about his daughter leaving for college and the things he wished he'd done differently before she went away.
"The hardest was when she left for college," he explained. "We dropped her off a couple days early, so the campus was empty, and I have this very clear image of her walking alone across the quad. I stared at my daughter's back while she literally walked into the next phase of her life."
The dad said he had a lot of questions about this next chapter, and wondered if he'd prepared her enough and if she'd be happy in her new adult life. More than anything, though, he said he wished he hadn't spent so much of her childhood fretting "the small stuff" — like "whether she started on the soccer team, or if she got chosen for the front row at the dance competition."
"We worried so much about that stuff because we were looking for any sort of validation that we were doing a good job," he recalled. "And in our desperation to be good parents we became our children. I wish I knew how fast all that stuff would fade away. And how little any of that would matter once she became an adult."
I'll be damned if every single parent can't relate to that.
When your kids are little and you're brand new to parenting, it's so hard to feel confident in the choices you make. That's why parents spend so much time shaming each other over pointless things like how we feed our kids and what diapers we use — we're in charge of another life, and we don't want to screw up. We want desperately to be doing all the right things.
My oldest child is about to turn five, and even though she's still so young, I already have regrets about the way I handled her earliest years. I was so caught up in making the "right" choices and giving her the "best start." It turns out I focused so hard on my own worries, fears, and inadequacies that her entire infancy just feels like a blur. I wish I'd been able to relax and be more present. Unfortunately, that seems like a lesson none of us learns until the time has passed.
It's normal to worry when you're a parent. Most of us will take any small bit of validation as a sign that we're doing the right thing, but nothing is ever a guarantee. No amount of first place trophies or high test scores will ensure our kids will become happy, healthy adults. If anything, this man's wise words are a reminder to just enjoy it while we can, because this is a short, wild, and wonderful journey we're on, and we don't want to miss it.
This article was originally published on