HONY's Tanqueray Is Now A Millionaire After Donations From Adoring Fans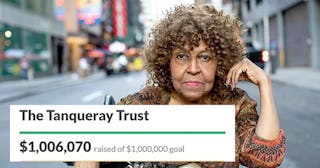 GoFundMe
Fans of Tanqueray, a viral sensation from the blog "Humans of New York," have raised over $1 million to help out with her health struggles
In a world filled with so much turmoil, Humans of New York is always a much-needed reminder that humanity exists. The photoblog and accompanying books, the brainchild of photographer Brandon Stanton, highlights people from different walks of life, featuring heartwarming — as well as heartbreaking — interviews and stunning photos of the subjects, showcasing their beauty, talents, and worth while explaining why they are who they are by telling their unique stories.
One of Stanton's subjects, a 76-year-old woman named Tanqueray, has become one of the standout characters of the blog due to her juicy strip club tales from the 1970s in New York City. The viral sensation has recently been experiencing a decline in her health, and her fans have rallied together to raise over $1 million so that she can live the rest of her life out like the queen that she is.
This week, Stanton shared that his beloved subject, whose real name is Stephanie, was in need of help covering her expenses, revealing he started a GoFundMe dubbed "The Tanqueray Trust" in order to help her out.
"Many of you will remember this young lady. Tanqueray caused quite a stir a few months ago when she dropped some truth bombs on us, while wearing a hand-beaded faux mink coat that she made herself. What you don't know is what happened afterward. Tanqueray—whose real name is Stephanie—sat for a series of twenty interviews with me, during which time I transcribed her entire life story. And whoa boy, what a story," he wrote in an Instagram post. He explained that plans to make a podcast out of the interviews were scrapped due to health complications.
"Stephanie's health has taken a bad turn, and she's in a really tough spot," he revealed. "So I'm going to tell her story right here, right now. It's the most ambitious storytelling I've ever attempted on the blog. It will unfold over the course of 32 posts. But if there's anyone who can hold an audience for an entire week—it's Tanqueray," he continued.
"As her story is shared, we will be raising money to ensure that Stephanie can live the rest of her life in comfort and dignity. Stephanie has a lot of urgent needs, so her care will be expensive. But her story is priceless," he wrote, urging people to donate to their cause if compelled by her story, which would unfold over the next seven days.
In the accompanying GoFundMe, he explained that while she's experienced difficulty for quite some time, in recent months she has been unable to walk as the result of a major fall. "Ever since the fall, Stephanie has been unable to stand or walk. She is in a lot of pain," he wrote. "We've hired a team of professionals to make her apartment clean and comfortable. We've gotten her a 24-hour home health aide. She now has a physical therapist coming to the apartment multiple times a week. And we're working on handling the back rent and eviction notices. Her health is not improving as quickly as we'd like, but Stephanie remains absolutely convinced that she is on the mend."
So every day another bit of her story is being shared on his account.
In the first of 32 posts, she held up a photo of herself dressed up in burlesque. "When this photo was taken, 10,000 men in New York City knew that name. My signature meant something to them. They'd line up around the block whenever I was dancing in Times Square, just so I could sign the cover of their nudie magazine," she revealed.
"I'd always write: 'You were the best I ever had.' Or some stupid s - - t like that. Something to make them smile for a second. Something to make them feel like they'd gotten to know me. Then they'd pay their 20 bucks, go sit in the dark and wait for the show to start."
In others, she talked about her childhood, how she ended up in New York City, and in prison.
The amazing thing is, that just halfway through her story — with days to go — over $1 million has been raised by fans. One of her biggest, author Luvvie Ajayi Jones, shared the exciting news on social media.
"OUR QUEEN IS OFFICIALLY A MILLIONAIRE!!! 😭😭😭😭😭," she wrote. "I truly hope she spends the sunset of her life in luxury and comfort and I hope this fundraiser allows her to live her last years/decades in ease."
Tanqueray's story will continue unfolding as the week progresses and the GoFundMe in her honor is still open for donations. Any money that is left over at the end of her life will be donated to The Association To Benefit Children, a New York charity dedicated to helping the city's most vulnerable children, at Stephanie's request.
Stanton, who has been paying for Tanqueray's medical bills himself, is also featuring her story in his highly anticipated new book, Humans, being released on October 6.