Hundreds Of People Join 18-Year-Old Dog For His Final Walk
by Jerriann Sullivan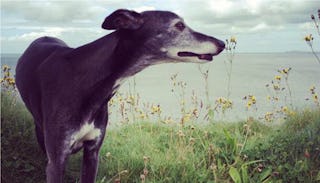 Image via Facebook.
Walnut the dog had his final walk at his favorite beach alongside hundreds of people and dogs
When Walnut the dog took his last walk on his favorite beach he was surrounded by love. Hundreds of pets and their humans showed up to walk alongside the 18-year-old whippet on a beach in Cornwall, southwest England.
The outpouring of support came after Walnut's owner penned a Facebook post about the dog's last few days. "Sadly I am having to have Walnut euthanised on Saturday 12th November," Mark Woods wrote. "I would love it if dog lovers/owners and friends would join us for a celebration of Walnut … He has had an incredible life and having reached the grand age of 18 is ready for his final sleep." Crowds of people showed up because anyone who has loved and lost a pet knows the unique pain the process brings. We live alongside our most loyal companions and are devastated when their precious lives are cut short.
Like most dogs and their humans, Walnut and Woods were inseparable. "He has always traveled around with me, all around London and he stood by the swimming pool while I gave diving lessons," Woods told a local news station. "We've been in all sorts of bizarre situations together, various girlfriends who have got upset because I always put him before them. I have always put him first and maybe I shouldn't have but he is just such a special dog." After a long, fun-filled life Walnut's health began to deteriorate. Over the past few months he became too frail to stand and needed assistance eating, Woods shared.
Walnut's family made the heartbreaking decision to let their beloved pet go. Woods shared on Saturday that Walnut had died and thanked the thousands of people who reached out to him and his family. "I am writing this post because I owe it to everyone who has supported myself, my family and most importantly Walnut," he said. "Thank you to the hundreds of people that attended the walk this morning and to all those that had their own walks with their beloved pets at 9.30am all around the world."
Losing a pet is a shattering experience. The constant love our pets provide is ripped away from us in an instance. We move on by remembering them and appreciating the simple joy they provided every day. Woods ended his heartfelt goodbye to Walnut by sharing a poem all pet owners can appreciate. "I read out a poem that was sent to me by one of the many well-wishers just before Walnut had his last sleep," he shared. "Would love you all to read this as well to remind ourselves just how lucky we are to be alive and to share in the wonderful world that our pets give us."
Read the poem below.
This article was originally published on