1.5 Million People Evacuate From The Path Of 'Historic' Hurricane Florence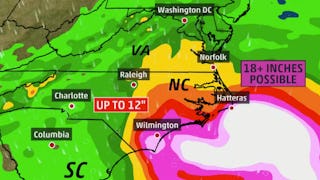 Image via Global Forecast System
Hurricane Florence is set to become a record-breaking storm
Hurricane Florence is continuing to gain strength as it barrels toward the Carolina coast this week. Around 1.5 million people have been warned to evacuate the storm's path as it gears up to be the most powerful hurricane ever to hit the U.S. coast so far north. Experts are calling it "historic" and a "worst-case scenario" storm.
Florence is currently a Category 4 hurricane, but may have strengthened to near Category 5, as experts worry it could bring rainfall that causes the kind of flooding we saw in Texas last year, which killed 68 people and cause $125 billion in damage.
"This will be a worst-case scenario storm," a representative for the Program for the Study of Developed Shorelines said, adding that Florence is predicted to cause a storm surge of more than 18 feet, which is the current record in the Carolinas. The storm is on a path that will cause it to hit the coast head-on between North and South Carolina, then continue inland rather than churn up the coastline. This path could cause winds exceeding 140 miles per hour and as much as 30 inches of rain in some inland areas.
The head-on path of the storm will also contribute to its high storm surge, experts say. All told, there are a lot of signs that this will be the worst storm the Carolinas have seen in decades, and the number of people being told to evacuate is historic.
In most coastal counties, the evacuation orders are still voluntary, but in some areas, mandatory evacuation orders have been given.
"We encourage people to abide by evacuation orders issued by counties and not try to ride out this storm," North Carolina Gov. Roy Cooper said. "This is a major storm."
The small town of Carolina Beach is under a state of emergency and mandatory evacuations. Town Manager Michael Cramer urged residents to leave, because "It will not be days we will be out of power, it may be a week or more," he said.
The Ocracoke ferry has been offering free rides for Carolina islands residents who want to leave. And the University of North Carolina has ordered evacuation of its Wilmington campus, offering students and staff shelter at its Asheville campus if they have nowhere else to go.
Hurricane Florence is expected to make landfall Thursday. Before then, we can only hope people get out of the way of this record-breaking storm.