Ordinary Civilians Act As First Responders In Houston -- And It's Amazing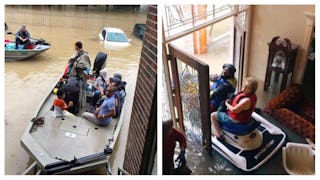 Regular people have been responsible for many rescue missions in Houston this week
For the last few days, we've been inundated with images of Houston and the destruction caused by Hurricane Harvey. The damage left in the wake of the storm is undoubtedly something the city will struggle with for a long time to come. Ordinary civilians have banded together to act as first responders for their fellow neighbors, children, and pets. These images are incredibly inspiring to see amidst such devastation.
Fishermen and those with boats have become self-appointed rescuers, navigating through the flooded streets of Houston to help anyone who needs it.
"Look at all these people with their boats coming to help Houston. Heading westbound on highway 90 on the road between Liberty Dayton," Veronika Previte, a Houston resident shared on Facebook in an image that has been shared over a million times.
It looks like anyone who owns a boat in Houston has instantly turned into a first responder.
There are people like this man, who, coupled with a boat and determination, is ready "save some lives."
While professional first responders are out working tirelessly to help those in their city, there are so many regular citizens doing what they can to save lives and help out.
Where's Wilson?, a southern music festival organization that raises money for depression and anxiety awareness, traveled from Atlanta to Texas with their boat and took part in rescue missions.
Regular folks are taking action left and right, armed with supplies like life jackets for those caught in flood waters.
And it's not just those with boats — citizens with jet-skis are rescuing grandmas right from their submerged living rooms.
Helpless animals are even being rescued by local cowboys.
While it's heartbreaking to witness the damage, it's equally inspiring to see so many civilians braving a hurricane to help those in less fortunate circumstances.
So many homes are destroyed or damaged, pets are lost, and lives are temporarily upended and permanently changed in Houston. Some people have lost their lives. It's tragic. It's devastating to see the images and feel helpless. People everywhere are donating diapers, personal hygiene products, and money to various causes and that is truly a wonderful thing.
But the most inspiring thing to come out of all of this is undoubtedly the will of the people of Houston. They've really shown us what true heroism looks like.