My Husband Died Before My Son's Prom. This Is What I Want To Tell Him.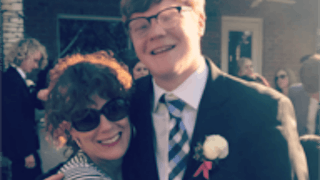 Leslie Blanchard
Like most families, we have framed photographs scattered throughout our home. Most of them don't have names. They might be casually referred to as, "the girls on the ski trip," but they're not officially named.
All except for one.
There is one picture in our home formally entitled, "Dese Boys, Dey Don't Hab A Mom!" Our oldest son named it. He personally represents one-half of the motherless orphans pictured in the photograph, so it only seemed fair that he was granted the naming rights.
Back when we lived in Phoenix, there was a photography studio in Scottsdale's tony Fashion Square Mall that would photograph your children and you could take your selections home with you that very same day.
I dressed up our sons, ages 4 and 18 months at the time, and drove them north to Scottsdale. Everything went south from there. A total disaster. It involved every end of their digestive systems, everything in my diaper bag, including spare outfits and every ounce of my energy and patience.
But we got the stinkin' picture — we sure damn did!
Fast forward many hours later that night. You were still at work, the girls were busy doing their homework, the boys were playing at my feet pushing their wooden trains around the track, when all of a sudden 4-year-old James addressed me: "You see dese boys?"
I looked at what he was holding and he has the picture. I had already put it in a large wooden and glass frame, so it was wobbling around in his arms, almost bigger than he was. He jab, jab, jabs his chubby little finger at the two little lads in the portrait and asks me again more emphatically,
"You see dese boys?"
I wondered to myself, "Where is this Tiny Toddler Attorney going with this line of questioning?" One thing was clear, I certainly wasn't going to get anywhere by being a hostile witness.
"Yes, I see those boys!"
"You see dese boys? (jab, jab, jab) Dese boys, dey don't hab a Mom!"
I was crushed! How could he suggest they didn't have a mother? Especially after the calamitous day we had endured together? I prided myself, at one point, on how calm, loving and patient I had become in my tenure as a mom. It took a lot to rattle me these days.
Back when I was getting pictures made of the girls, I would've had a total meltdown, but I was on kids #4 and #5. I was a veteran, a battle-ax, a seasoned professional.
"Dose boys do too hab a mom! One helluva Mom!"
Later, when you arrived home from work, we got the biggest kick out of it. You helped me decipher his complicated little baby brain trail. We figured out that I was so omnipresent in his and his little brother's lives, that he was confused by the photograph.
I was there, but I wasn't. He had a mom, but then in the actual picture, she disappeared. Our 4-year-old was grappling with the concepts of object permanence and impermanence on a larger scale.
He knew I had played a significant role in getting them to that point. In fact, I was standing right beside them, posing them and jumping out of the frame right before the photographer snapped the lens.
Now you see her, now you don't!
That's what it feels like for us since you died. Like you got us all set and then (poof!) you just disappeared. We don't get it. We have questions…
jab
jab
jab
Last night was our youngest son's prom. We had the suit. I bought a tie. I ordered the corsage. Miraculously, his dress shoes still fit. One might think we were good-to-go. But I had already anticipated our problem. None of us knew how to tie a tie. None of us. You took that skill set to the grave with you, Honey.
But, I thought we would just take the tie with us to the Parent Paparazzi beforehand and one of the dads there could tie it. But Tom was having none of it. So his sister jumped in and FaceTimed her boyfriend and they tried to do it backwards over the phone. It all came together in the end. But we sure could've used you.
And didn't you have a little pre-prom schtick whereby you first put the tie in a little "choke–hold" around their necks before you tied it on them in a lighthearted little mafia-style demonstration of what would happen to them if they misbehaved at any point during the evening?
Your parenting style was unique, but ever so effective.
This morning, the first thing my eyes alighted on, as I rolled over and stared across the vast emptiness of your side of the bed, was the infamous picture, "Dese Boys."
And I was reminded of a few things…
I was so very there that day. So present in the moment that it was almost insulting that our son thought he didn't "have a mother" just because he couldn't see me. Simply because I wasn't in the picture.
Surely, that's how it must be with you now. You were omni–present as a father. Our favorite scripture for raising children was Deuteronomy 11:19 (remember when you would call the boys "Dude–a-ronomy?") That scripture is all about teaching your children how to live. "When you wake up in the morning, when you walk down the road, when you lie down at night."
You did all that. Those boys knew your views on life inside and out.
You gave them everything they needed. They can quote you chapter and verse on the stuff that really matters in life. Even though you've stepped out of the frame.
And they can watch a YouTube tutorial on everything else.
This article was originally published on